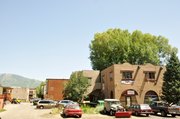 Steamboat Springs — The Steamboat Springs City Council on Tuesday night stopped a local medical marijuana dispensary from moving downtown because of the new location's proximity to a popular park.
The council, by a 5-2 vote, supported the Planning Commission's decision last week to disallow D&C LLC's relocation from South Lincoln Avenue to 1136 Yampa St. in Sore Saddle Condominium Unit 2, which is a few steps away from Little Toots Park.
The proposed site of the dispensary did meet the city's zoning requirements, and the move was endorsed by city planning staff.
But a majority of Planning Commission and City Council members decided the dispensary wouldn't be a good fit for the neighborhood, saying it was too close to the park, private residences and the Bud Werner Memorial Library.
"I really have a hard time (supporting the move) when the park is sitting right there," council member Kevin Kaminski said. "I wish it would be a block or two down further away."
He added that the dispensary's potential proximity to a popular playplace for children was worrisome.
Kaminski, City Council President Bart Kounovsky and members Cari Hermacinski, Kenny Reisman and Walter Magill voted against the relocation. Council members Scott Myller and Sonja Macys voted to support it saying they couldn't find anything in the city's existing zoning ordinances that would prohibit a dispensary from moving in there.
The city's zoning ordinance does not allow medical marijuana facilities to operate within 500 feet of a school, but it does not prohibit them from operating near a park. However, some council and Planning Commission members argued that the dispensary should not be near Little Toots Park, which hosts several children, for the same reasons that it should not be near a school.
The Planning Commission also received phone calls and letters from some neighboring business owners and residents urging them to stop the proposed move of the dispensary.
Daryl Levin, one of the dispensary's owners, accused the Planning Commission on Tuesday of being biased against medical marijuana. He also criticized the City Council's decision to deny his company's appeal to honor the existing zoning ordinance.
"If you didn't want us next to a park, you should have made that in the ordinance for the zoning," Levin said after the meeting. "But we're not going to be bitter about it. We're just going to look at other options."
Levin said the business already has invested about $5,000 into the move. D&C LLC currently operates in a 150-square-foot space. Its owners wanted to move to the new 850-square-foot location in part to expand its retail business and sell such items as hemp shirts and lotions. Levin said no marijuana would have been grown at the proposed retail location, which is on the upper floor of a building at 12th and Yampa streets that is accessed through an alley.
"We run a good operation," Levin said, adding that the dispensary has been operating since 2009. "We're not asking for any favors. We don't want to create problems. We feel we are following all of the rules."
To reach Scott Franz, call 970-871-4210 or email scottfranz@SteamboatToday.com