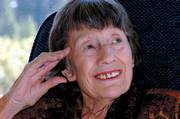 By the numbers
Totals are approximated based on the percentage of the estate received.
■ Strings Music Festival $1,732,557.63
■ Healthcare Foundation for the Yampa Valley $1,386,046.82*
■ Colorado College $1,386,046.82
■ Steamboat Springs Arts Council $1,039,535.11
■ Yampa Valley Community Foundation $693,023.41
■ Colorado Symphony Foundation $693,023.41
■ Central City Opera House Association $346,511.70
■ Four Mile Historical Park $346,511.70
■ Tread of Pioneers Museum $242,558.28*
■ Christian Science Society of Steamboat Springs $173,255.41
■ Bud Werner Memorial Library $173,255.41
■ Kappa Alpha Theta Foundation $173,255.41
■ Northwest Colorado Visiting Nurse Association $138,604.86
■ Hospice Services of Steamboat Springs $138,604.86
■ Friends of Perry-Mansfield $69,301.98
■ Heritage Christian School $69,301.98
■ The Lowell Whiteman School $69,301.98
■ Lowell Whiteman Primary School $69,301.98
*Totals are exact
Source: Routt County Courthouse document
Steamboat Springs — The directors of several local nonprofits say Gloria Gossard's generous gifts of nearly $9 million help guarantee the future of their organizations.
"To see the list of the nonprofits that she believed in and gives her money to, it's so impressive and so wonderful," said Strings Music Festival Executive Director Kay Clagett, a friend of Gossard's who met her in the mid-1970s and started working with her at Strings in the late 1980s.
Strings is one of the 18 nonprofit groups that received money from Gossard, a longtime philanthropist and arts advocate who died March 29, 2010, of natural causes at age 88.
Gossard did not have any immediate family members alive when she died, but about $4 million was distributed to 18 individuals who were like family to her, said Geneva Taylor, Gossard's close friend and the executor of her estate.
Taylor said Gossard's wealth was built through good investments using the proceeds from the sale of her family's ranch outside Craig.
"She was very frugal," Taylor said. "She didn't spend a lot on herself. She saved her money."
Before she died, Taylor said, Gossard decided how her estate was to be divided. She said the estate has not fully been closed. There is one small disbursement left, Taylor said, so she was hesitant to provide specific numbers. Public records obtained from the Routt County Courthouse show how the money was distributed.
Out of all the nonprofits, Gossard gave the most to Strings, which has received more than $1.7 million.
Clagett said Gossard was the most significant supporter of Strings throughout 25 years, and she was instrumental in the beginning.
"We didn't have two nickels to put together a concert series," Clagett said. "She got us started, and she sees us into the future."
Clagett said Gossard's gift will be put into an endowment, which will provide an income for Strings in perpetuity and likely will encourage others to donate and grow the endowment.
"What she wants you to do when she gives gifts like this is to use it wisely," Clagett said. "Gloria gave not to be recognized. She's always been that way."
Gossard and her late brother Bill's love for music is apparent by the gifts to other groups, with nearly $700,000 to the Colorado Symphony Foundation and nearly $350,000 to the Central City Opera House Association.
Gossard was a big supporter of the arts and left more than $1 million to the Steamboat Springs Arts Council and nearly $70,000 to Perry-Mansfield Performing Arts School and Camp.
"Our plan is to form a hefty endowment that will secure the future of the arts community in Steamboat," said Arts Council Executive Director Clark Davidson, who added that $50,000 of the gift was used to pay off old debt.
Bud Werner Memorial Library has received about $173,000. Library Director Chris Painter said the library has not decided how to use the money but was very appreciative and honored to be included.
"We think that the money that Gloria gave to the library should be used very thoughtfully and carefully," Painter said.
Gossard left another $1.3 million to her alma mater, Colorado College in Colorado Springs, and another $173,000 to her sorority, Kappa Alpha Theta.
Gossard cherished local history and gave nearly $250,000 to the Tread of Pioneers Museum, and it is being used to help fund a 4,280-square-foot, $1 million expansion.
"Gloria's gift was a catalyst for our expansion project," said Candice Bannister, the museum's executive director. "Her significant donation moved us into a position to fundraise locally in the community and to eventually qualify to apply for several grants. ... We are forever grateful to her."
The Yampa Valley Community Foundation has received nearly $700,000, which will be put into an endowment allowing the foundation to contribute a minimum of $25,000 each year in perpetuity to the Community Grant Cycle.
"Gloria had been giving back to the community for many years, and in her death, she has continued to do so by leaving her legacy to various arts, environmental, educational and health and human service organizations in the valley," said Heidi Barbee, the Community Foundation's marketing manager.
On June 24, the foundation will announce the recipients of $30,000 set aside for one-time Gossard grants.
Gossard also recognized the importance of quality health care in a rural area.
She left more than $138,000 each to the Northwest Colorado Visiting Nurse Association and Hospice Services of Steamboat Springs. Her second-largest gift of nearly $1.4 million was to the Healthcare Foundation for the Yampa Valley, the fundraising arm of Yampa Valley Medical Center.
Sandy St. Clair, the foundation's executive director, said a portion of the gift is expected to be put into an endowment and also will be used for priorities identified at YVMC that include cancer services, women's health and cardiology. St. Clair said the foundation was grateful for the lasting gift, which will have significant impacts.
"She's essentially saying to us, 'I want you to be successful; I want you to grow. I'm not here, but I want you to grow and thrive,'" St. Clair said.
To reach Matt Stensland, call 970-871-4247 or email mstensland@SteamboatToday.com