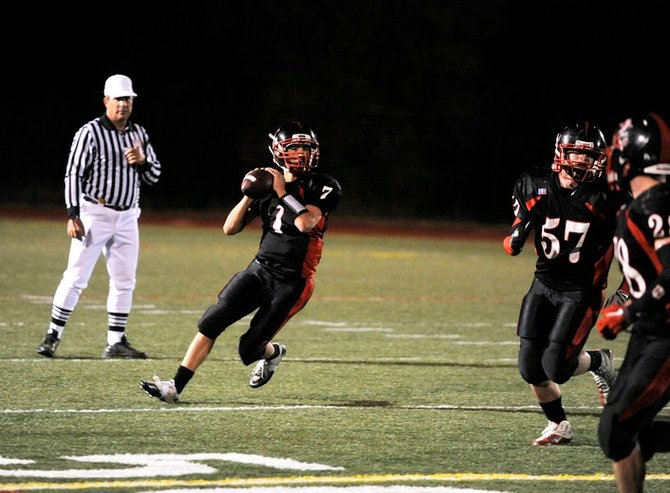 Local high school sports officials needed
How to help
If you're interested in becoming a high school sports official, call Elvis Iacovetto at 970-736-8308 for football, Rick Murr at 970-824-1768 for basketball or visit www.chsaa.org for all other sports.
Steamboat Springs — Steamboat Springs High School athletic programs are in need of officials.
Because of retirements and relocation, there is a major shortage of officials in all sports, specifically basketball and football.
"It's getting harder and harder to get officials," said Steamboat boys basketball coach and Athletic Director Luke DeWolfe. "We're having to foot the bill to bring guys from Denver or Grand Junction."
Boys lacrosse and soccer have official associations in Steamboat and usually are able to draw local or regional officials. Because of work conflicts this year, the local boys lacrosse officials were limited in how many games they officiated. This forced Steamboat to bring in lacrosse officials from Aurora and Grand Junction.
Girls lacrosse officials come from Summit County and Eagle, but most officials for other sports come from the Front Range or Grand Junction.
When officials come from Denver or Grand Junction, their travel is paid for by the school.
"Without the local guys, it becomes a tough issue for us," DeWolfe said. "It benefits us in a lot of ways to have local guys do it."
With basketball and football in particular, there is a shortage of referees in the area.
Elvis Iacovetto, the area director for football officials, said the shortage is becoming a major issue.
Iacovetto, who also officiates basketball, said there are 15 regional football referees.
He said, at a minimum, that number should be 20, considering the group does games in Meeker, Craig, Steamboat, Hayden and Oak Creek.
Some Friday nights, he said, there will be games in all locations.
"Football and basketball are all I know on the weekends in the fall and winter," said Iacovetto, who has been officiating for 32 years.
It's a major commitment, Iacovetto said, but for anyone looking to get back into the game, it's a good way.
The pay for most varsity games is $50 to $60. Junior varsity and freshman games typically are $30 to $40. Travel also is included.
To become an official, people must pass a test and register with the Colorado High School Activities Association.
Those interested in football can call Iacovetto at 970-736-8308. Those interested in basketball can call Rick Murr in Moffat County at 970-824-1768.
Hayden is having a pair of 8-man football camps and scrimmages Thursday and Friday that Iacovetto said also will serve as football official training.
Anyone interested in officiating any other sports should visit www.chsaa.org.
"I think it's something that a lot of people would enjoy," DeWolfe said. "Guys that do it really enjoy being around the game."
To reach Luke Graham, call 970-871-4229 or email lgraham@SteamboatToday.com