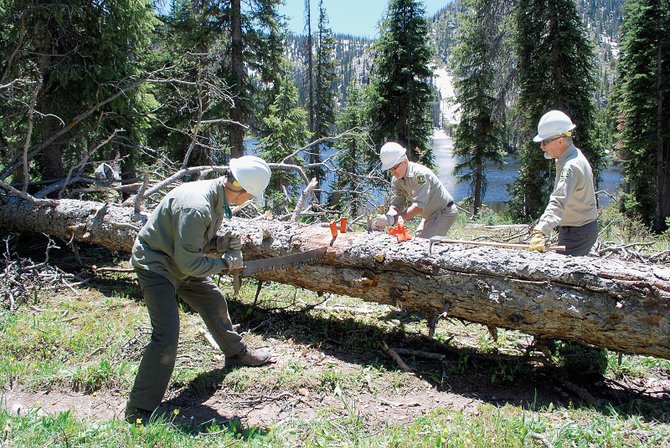 Volunteer groups tackle downed trees across Routt County
Past Event
Thursday, June 21, 2012, 10 a.m.
Forest Service Office, 925 Weiss Drive, Steamboat Springs
All ages / Free
Protect yourself from falling trees
■ Be aware of your surroundings and avoid dense patches of dead trees that can fall without warning.
■ Stay out of the forest when there are strong winds that could blow down trees. If you already are in the forest when winds pick up, head to a clearing out of reach of any potential falling trees.
■ Place tents and park vehicles in areas where they will not be hit if a tree falls.
■ When driving in remote areas of the forest, park close to a main road rather than on a spur or one-way section. If trees fall across the road, you may be trapped.
■ Bring an ax or a chainsaw to remove fallen trees from roads in case you become trapped.
■ Do not rely on cellphones for safety as there is no coverage in many areas.
Source: U.S. Forest Service
Steamboat Springs — Veteran wilderness ranger Win Dermody never had worked on a log as big as the 36-incher that was removed from a trail in the Mount Zirkel Wilderness Area this week. But the removal of dead trees that have fallen over popular hiking trails has become a never-ending task for the volunteer organization that works under a formal memorandum of understanding with the Hahn's Peak/Bears Ears Ranger District headquartered in Steamboat Springs.
"We removed 220 downed trees in 2011. I don't know how many of those trails would have opened if we hadn't," Dermody said. "It's been a great partnership."
And within wilderness boundaries, all of those fallen trees are removed with muscle power, using an old-fashioned crosscut saw.
A Friends of the Wilderness crew removed trees from the Three Island Lake Trail, accessible from Routt County Road 64 and Forest Service Road 443, this week. Medicine Bow-Routt National Forest spokesman Aaron Voos confirmed Thursday that the volunteers and Forest Service personnel have removed fallen trees from the 1164 Trail all the way to the lake and that it's suitable for hiking this weekend.
"Beyond the lake, we're not 100 percent sure what trail conditions look like," Voos said.
The trail leads to Beaver Lake and, ultimately, the Continental Divide.
Dermody, retired from a career in business, is the volunteer coordinator for Friends of the Wilderness. Comprising 40 members, organization volunteers work in a variety of roles depending on their interests and capacity for taking on physical chores in the mountains. There also are social events in the backcountry.
"Our oldest member spends much of her time greeting visitors to Fish Creek Falls," Dermody said.
Interested people who missed this week's orientation session for newbies are welcome to attend a session for returning volunteers Thursday.
Volunteers are educated about the provisions of the Wilderness Act and trained in a variety of skills including tool safety.
And that giant tree Friends of the Wilderness removed this week? It was accomplished with a human-powered crosscut saw in accordance with wilderness regulations prohibiting power tools and motorized vehicles.
Timberline Trailriders helps clear national forest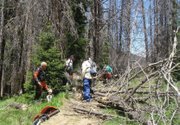 Volunteers from Timberline Trailriders helped clear Routt National Forest multiple-use trails of fallen trees, according to a news release. Timberline started helping the U.S. Forest Service in 1974 and continues to clear out the trails at the beginning of every season.

This year, more than 35 volunteers split into groups with saws and blanketed the trails. Members reported going though more than six tanks of gas in their chainsaws and removing more than 100 downed trees.

"Without the support of Timberline, the USFS would not be able to maintain all the motorized trails in the district for the public to enjoy," Kent Foster, recreation program manager of the Hahn's Peak Ranger District, was quoted as saying. "The long-term financial and volunteer support Timberline has provided is a great asset to the Forest Service." 
To reach Tom Ross, call 970-871-4205 or email tross@SteamboatToday.com