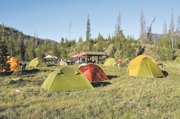 Steamboat Springs — Thursday night marked an important occasion for Big Agnes, the not-so-little-anymore outdoor and camping equipment manufacturer headquartered on Oak Street in downtown Steamboat Springs.
Company executives had just finished showing their new line of tents, including a zipperless design that relies on magnets, to a lead buyer and inventory control managers from their key customer: REI.
When it was time to entertain their corporate guests, they did it Big Agnes style. Instead of retiring to a downtown restaurant, the group headed up Seedhouse Road to the edge of Mount Zirkel Wilderness Area with all of the essentials — beer, brats, burgers and s'mores — for a campout where lively conversation and music ensued around the campfire.
When you're entertaining one of your best customers, you want to make sure they get to sample the true DNA of your company.
"It's fun to have REI here and to show them our products with the Mount Zirkel Wilderness Area" in the background, Big Agnes co-owner and Vice President of Finance and Operations Rich Hager said. "REI's culture is much more like ours than most of the big companies."
Big Agnes officials declined to make public their 2011 sales figures or the pace of their growth in 2012, but it's easy enough to infer from the way their faces light up when the subject is broached that things are going well for Big Agnes and its sibling, Honey Stinger. Big Agnes still is ahead of Honey Stinger, but the latter is catching on in new markets. At the same time, Big Agnes is making significant inroads in international markets from Japan and China to the Netherlands and France.
Even with more than a billion dollars in annual sales, REI, with 3.5 million members in its consumer cooperative, relates to the backcountry family culture of Big Agnes (named after a peak in Mount Zirkel Wilderness Area). Aside from REI's own house brand, the Steamboat company has become its No. 1 supplier of tents.
REI Product Manager Tad Summersett, who is responsible for buying tents and bags, said that his company has similar roots to Big Agnes in Washington state and that REI's relationship with its customers is defined by the fact it is a cooperative.
"REI has been around for more than 75 years, and it was founded on people with these (traits). It's how our industry has grown and stayed fresh and relevant," Summersett said.
Big Agnes owner and co-founder Bill Gamber said his company's work-hard, play-hard culture is wrapped up in the lifestyle of the Yampa Valley.
"This is our culture," Gamber said. "Our crew didn't move to Steamboat to work for Big Agnes; they moved to Steamboat to live here."
Big Agnes announced this week that it had expanded its operation in Steamboat with the acquisition of a new warehouse facility on the city's west side and the promotion of some of its own.
Rose Alford was named dealer services manager, and Gamber praised her strong relationships with clients and knowledge of the industry. Kellie Nelson was promoted to dealer services representative for the southeast, northeast and Midwest regions, and Tanya Whitehead expanded her role to include international dealer services.
New employees Rob Peterson, Sarah Uhl and Anna Hall also joined the Big Agnes team.
Gamber's interest in all of his 70 employees is not lost on them.
Ryan Connelly, who has worked only in the Big Agnes packing and shipping warehouse, gets to interact with the boss on the job and at team campouts.
"Bill is talking to each and every one of us to see how everyone's doing, no matter what their job is," Connelly said.
Connelly describes his job as fun, and his colleagues' idea of having fun on the job is drawing mountain ranges and smiley-faced suns on shipping cartons before they are sent off to customers.
Paul Geppert, who has worked in shipping and receiving for five years, said he appreciates having a ski town job with consistent hours and benefits.
"What a great company," he said. "In Steamboat? It's hard to find this situation."
Honey Stinger
Big Agnes is only one-half of the company based in the little red house on Oak Street. Honey Stinger, the purveyor of energy and protein snacks for endurance athletes, is marking unprecedented growth and is on track to increase 2011 sales by 100 percent this year, marketing executive Len Zanni said. Big Agnes and Honey Stinger are fortunate to have strong relationships with more than one bank for the lines of credit they need to grow, he added.
"Honey Stinger is killing it in Canada," Gamber said.
The company's energy gels, protein bars and organic chews and waffles are made in California, Utah, Pennsylvania and Canada, he added.
Zanni said the in-house sales team at Honey Stinger is incentivized to open new doors by selling to new stores.
Recently, the company secured agreements to deliver Honey Stinger products to Whole Foods Market groceries in northern and southern California in addition to its existing relationships with Whole Foods in Colorado and New Mexico.
Gamber made it plain that he takes pride in employing 45 to 50 people in Steamboat and in the money that is pumped into the local economy.
"I'm not a politician," he said, but he quickly added that if there is one thing the community could do for his company, it would be to provide more affordable housing opportunities for his employees.
To reach Tom Ross, call 970-871-4205 or email tross@SteamboatToday.com