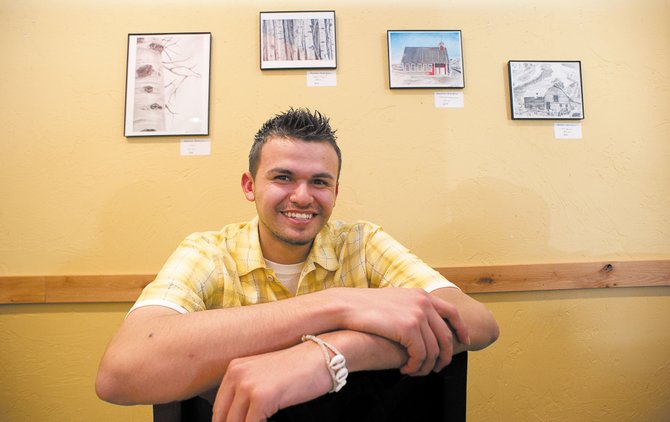 2011 Steamboat Springs grad presents 1st solo art show
Steamboat Springs — It all starts with the eyes.
The eyes were the first part of the human face Abraham Rodriguez was moved to draw. But that might come as a surprise to those who knew him as a student.
"Even though I'm really shy, when it comes to looking at people in the eyes, when it comes to drawing them out, I like it," he said.
He later became fascinated with portrait drawing, developing a style so photographic and detailed that he has to admit he's a bit of a perfectionist.
The artist graduated from Steamboat Springs High School in 2011 and has been working and drawing professionally in Steamboat since then.
This month at Ciao Gelato, Rodriguez is presenting his first solo art show, which features detailed graphite drawings of iconic Steamboat scenery from unique perspectives.
There will be a reception for Rodriguez from 6 to 8 p.m. Friday, and the show is on display through June 24.
Rodriguez said that he's been drawing since elementary school but that he first decided he could pursue art as a career in eighth grade.
With English as his second language, Rodriguez mainly kept to himself even into high school.
Still, his elementary school art teacher, Susanmarie Oddo, took notice of his talents as early as fifth grade.
"It was clear he was a gifted artist even that young," she said. "He's always been able to learn quickly and pick up the concepts and techniques at a rapid rate. He's many years ahead of his age developmentally."
Oddo, now an art teacher at Steamboat Springs Middle School, hadn't talked to Rodriguez in years when she offered him a mentorship last year. The pair have been meeting every week working on craft and techniques as well as the business side of an art career.
Rodriguez is a professional artist now, working on commissioned portraits for anniversaries, graduations, Father's Day and birthdays. He takes photographs and re-creates the image with his own touch, emphasizing the emotions of the eyes.
Oddo said that she felt it was her obligation to help give him an extra boost as he began his career.
"It was also incredibly rewarding, but to watch him grow so fast, it's the best payment ever," she said. "One of the things I've seen grow in Abraham is his ability to take pride in his work and really just build that confidence."
It's a far cry from the shy student he once was.
He said he didn't talk much because he always had a fear of messing up his words. Even now, he said, it's not easy speaking another language.
And that's just one of the reasons why he sees art as his future.
"It's a good way to express yourself, too," he said. "You can draw something, and people will know what you're feeling."
To reach Nicole Inglis, call 970-871-4204 or email ninglis@ExploreSteamboat.com