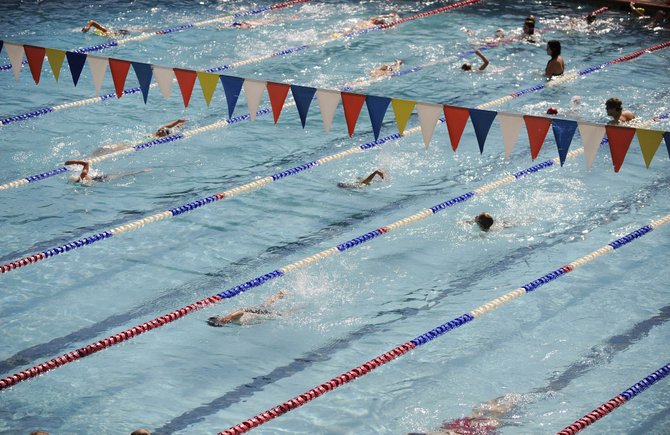 Temperature swings play hot, cold in Steamboat
By the numbers
Steamboat Springs all-time record high temperatures for June 5
85 degrees in 1969 and 1894
84 degrees in 1997 and 1977
83 degrees in 2000
All-time hottest days in Steamboat history, regardless of date
99 degrees on July 17, 1909, and July 7, 1897
98 degrees on Aug. 12, 2001; Aug. 6, 2001; Aug. 4, 2001; and Aug. 26, 1948
97 degrees on Aug. 9, 2001; Aug. 8, 2001; Aug. 7, 2001; and July 25, 1931
The heat spell of August 2001 made it one of the warmest months on record in Steamboat Springs, the National Weather Service's Jim Pringle said. But it wasn't the hottest month on record. The average high temperatures of 88.9 degrees in August 2001 was surpassed by July 2002, which averaged 89.3 degrees.
Steamboat Springs — Bring your potted herb gardens into the house Wednesday night.
After flirting with record high temperatures for a second day in a row Tuesday, Steamboat Springs was expected to dive into the upper 30s on Wednesday morning, meaning there is a potential for a 50-degree temperature swing between Tuesday's daytime high and overnight low. And the pattern could repeat Wednesday and Thursday.
Steamboat set a new temperature record Monday when the thermometer hit 87 degrees at 2:45 p.m. It eclipsed the old June 4 record of 86 degrees that had stood since 1909.
The National Weather Service forecast on Tuesday called for a high of 88, which would have broken the record of 85 degrees set in 1894 and again in 1969. As of 2:45 p.m. Tuesday, the automatic temperature reporting site at Steamboat Springs Airport (which is not the official measurement site) read 83 degrees. The temperature had retreated to 79 degrees by 4 p.m.
If Tuesday's forecast high of 88 was realized and paired with Wednesday morning's expected low of 37 degrees, it would represent a 51-degree temperature swing. And there could be overnight temperature swings of more than 40 degrees through the end of the workweek.
Master gardener Deb Babcock said in the case of native plants, especially those in the ground, "Don't worry about it, they'll be fine."
However, flowers and herbs in container gardens are more vulnerable because the heat of the day radiates more quickly from pots into the cold night air.
"Anything non-native, keep an eye on it," Babcock said. "Herbs are generally from the Mediterranean area and also aren't accustomed to our high altitude and intense sun."
Some people got an early start on gardening this summer because of the unusually mild spring, Babcock observed. However, June 10 is the average date of the last frost. She uses circular, plastic water barriers that collect the sun's heat and release it gradually overnight to protect sensitive plants.