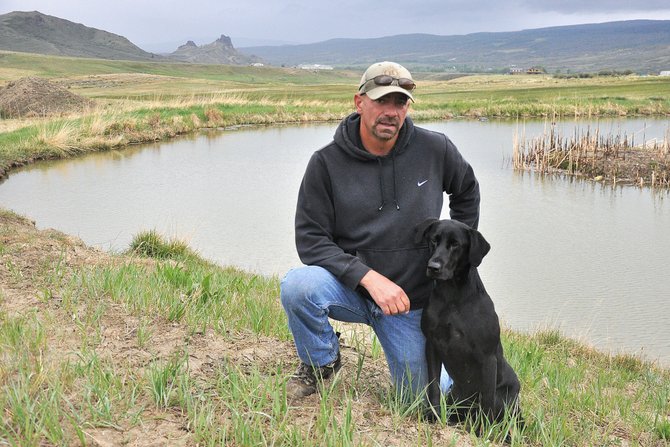 Yampa's Harris and his dog to compete in retriever championship
Yampa — Even when their bodies are shrouded by water and natural barriers and their scent is scrambled by wind, Marti finds the birds with ease.
"I knew at a very young age she had talent," Joel Harris said as he described the 3-year-old black Labrador retriever he trains behind his dog kennel in Yampa. "Sometimes in training she would do so well I would have to pinch myself. I feel like now there's nothing she can't do."
Together, Harris and his young dog have found success at several field trial competitions across the country. Since June 2011, they have posted first-place finishes at competitions in Saratoga, Wyo., and Salt Lake City. They also have competed at several other trials in Utah, Colorado, Oklahoma and Nebraska. But it was the two top finishes that qualified them to compete later this month in the National Amateur Retriever Championship in Onaway, Mich.
"I've been doing this for 17 years and I've never gotten this far," Harris said, adding that Marti's talent ended his four-year hiatus from the sport.
On Sunday, near the banks of the pond that sits behind his kennel, Harris continued to train Marti. He spent the afternoon launching dead birds for the dog to retrieve, and he noted there still are plenty of things to practice before the national competition.
"He's definitely a perfectionist," his wife, Tonya, said Sunday. "He's been very dedicated and persistent in not giving up. It's like he has a four-legged athlete that's going to be in the Olympics. This competition is as far as they can go."
Tonya said her husband's passion for the sport stems from his love of hunting. Harris said he doesn't win cash prizes for the competitions, but the sport helps trainers like him develop quality breeding programs.
"It involves a whole lot of dedication and sacrifice as well as help from others," he said. "What these dogs are capable of is absolutely mind blowing."
To reach Scott Franz, call 970-871-4210 or email scottfranz@SteamboatToday.com