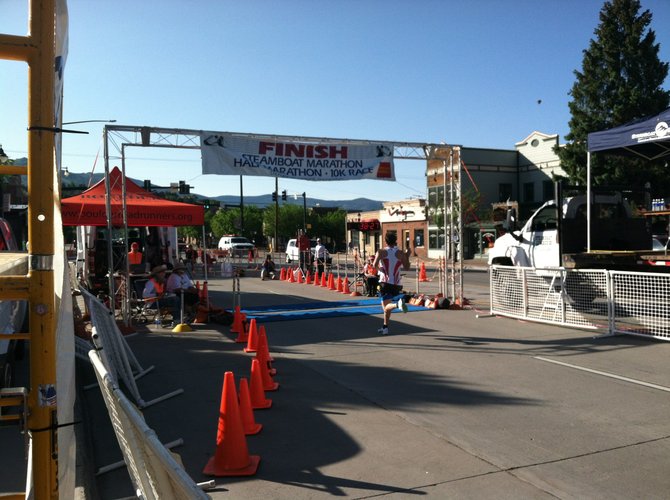 Steamboat Marathon gets off to a great start
Updated June 3, 2012 at 8 p.m.
Photo Gallery
2012 Steamboat Marathon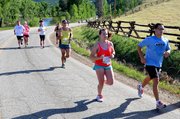 Steamboat Springs — Editor's note: An earlier version of this story misspelled the names of Simon Zink and Deirdre Pepin. They have been corrected.
With morning temperatures Sunday in the 40s, racers boarded buses to be dropped off at their starting points along the course of the 31 annual Steamboat Marathon.
The 10K, half marathon and full marathon all started at 7:30 a.m., and a little more than 30 minutes later, runners started to trickle in from the 10K.
Matt Davies took first in the 10K, followed by 13-year-old Simon Zink.
Race director Paul Sachs said the start went off without a hitch. "That's always the most nerve racking part," he said.
Top finishers cross line for half marathon
Campbell Ilfrey, of Louisville, was first in the half marathon in 1:18:59. Todd Trapp, of Craig, was second (1:19:37), and Jonathan Wells, of Castle Rock, was third (1:20:22). The first woman across the line at 1:25:26 was Lori Walker, of Henderson, followed immediately by Bean Wrenn, of Boulder, in 1:25:42. Deirdre Pepin, of Steamboat, rounded out the top three for the women at 1:27:59.
Gabe Small wins the Steamboat Marathon
Gabe Small, of Lafayette, won the main event in 2 hours and 49 minutes. David Pokomy, of Kirkwood, Mo., was second at 2:56:47, and Travis Mattern, of Steamboat, was third in 2:59:38. First for the women was Callie Bradley, of Oak Creek, in 3:13:15. Sandra Currie, of Highlands Ranch, and Kelly Heaney, of Steamboat, came in second and third for the women in times of 3:17:43 and 3:25:17, respectively.
Results
2012 Steamboat Marathon 10k results
2012 Steamboat Marathon half marathon results
2012 Steamboat Marathon results