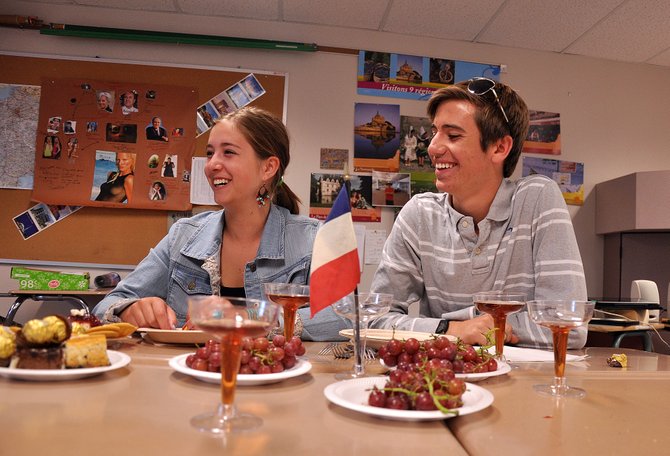 Task force to examine Steamboat high school foreign language offerings
Steamboat Springs — The Steamboat Springs School District's world languages program could look, and sound, very different after next school year.
In September, a task force of five teachers and administrators will begin meeting regularly to examine the district's foreign language curriculum and to help decide the future of a program that for at least the past three decades has offered students a choice of only Spanish or French.
"Their job will be to determine what we like and if we need to change directions on anything," Steamboat curriculum director Marty Lamansky said. "Everything will be on the table."
He said the task force partly is a response to a new graduation requirement adopted last year that requires high school students to take at least one foreign language class. The class of 2015 is the first to have to adhere to the rule.
Superintendent Brad Meeks said the curriculum review, which will be completed next spring, could result in the addition of a new language or shuffling of existing ones. He noted that some community members have expressed a desire to see such languages as Mandarin, German and American Sign Language offered in Steamboat's public school classrooms. But he said the challenge will be how to deliver them effectively and fit them into the district's budget.
Currently, students who want to study a different language are directed to an independent study program. But Meeks said new distance and online learning techniques could make it easier for Steamboat to offer more languages in the future.
"Small schools, especially, struggle with foreign language instruction in terms of finding qualified teachers," Lamansky said.
As Steamboat ponders the future of its world languages program, a nearby school already is moving forward with changes to its curriculum.
Complementing a new student recruiting effort in China, The Lowell Whiteman School will phase out its French program next school year in favor of Mandarin.
"The real question everyone has is, 'Should we continue to speak French?'" Head of School Chris Taylor said Tuesday. "It's hard to justify. There was a time when French really was the language of diplomats, but Chinese is going to become" more relevant.
But as they studied French in a Steamboat Springs High School classroom on Wednesday, students revealed that choosing a language isn't as simple as deciding which one is perceived to be more useful or relevant.
Picking a language
High school junior Avery Globe enrolled in French because she said it sounds beautiful.
Sophomore Grant Verploeg chose the language because he didn't want to "study Spanish just like everybody else." Hope Nelson wanted to learn more about the western European country's culture.
"Instead of just learning how to say new things, we get to learn about a whole new group of people," Nelson said as she ate cheesecake and French chocolates with her classmates Wednesday to celebrate the end of the school year.
At the high school, students base their decision between French and Spanish on many things, but Lamansky said a majority of students ultimately share a common desire to learn a language other than their native English.
According to enrollment records, a vast majority of students in Steamboat take more than one credit of foreign language before they graduate. But Spanish and French numbers are skewed. Lamansky said 329 high school students currently are enrolled in Spanish classes, far outnumbering the 45 students who are enrolled in French. French was removed from the middle school curriculum years ago. Spanish is taught starting in the third grade.
Steamboat French teacher Babette Dickson, who will serve on the world languages program task force, said she would like to see her language reintroduced in the middle school. And she said the more languages offered in Steamboat, the merrier.
"Arabic and Mandarin should be offered no matter what," she said, adding that the district's curriculum is behind the times for not offering them. But she said the district should not swap out or sacrifice existing languages to introduce new ones.
The task force is one of several being introduced to the district under Lamansky's guidance next school year. He said about 45 individuals will discuss and evaluate programs for at-risk students as well as Steamboat Springs Middle School's math program and curriculum materials.
But he acknowledged the foreign language task force has one of the biggest jobs.
"It's exciting because it means we're going to move our programs forward," he said.
To reach Scott Franz, call 970-871-4210 or scottfranz@SteamboatToday.com