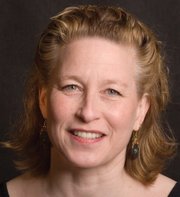 If you go
Perry Mansfield Performing Arts School and Camp highlights:
June 15 to 17: New Works Festival
July 6: Junior Showcase
July 7: "Dance & Camaraderie," a collaborative show with Strings Music Festival
July 12 and 13: P-M Premieres: An Evening of One Acts
July 19 to July 21: Evening of Dance
July 26 to July 28: Perry-Mansfield Musical
Aug. 3: Young Artist Intensive Showcase
Steamboat Springs — Joan Lazarus' career as a dancer and educator always has subtly intertwined with the Perry-Mansfield Performing Arts School and Camp in some way; from a poster of the school's current Director of Dance Linda Kent on her wall in college to teaching her dance students about the history of the legendary school.
Now, Perry-Mansfield is where she's landed a position as the new executive director of the nearly century old Steamboat Springs performing arts school.
"It has the feeling of all these little points of light in my dance background are settling into this neat little constellation," said Lazarus. "It's a dream job for me; it really is."
Former Executive Director June Lindenmayer resigned in March 2011 and then-board president Jeffrey Tarnoff assumed the role of executive director.
Tarnoff said at the time that Perry-Mansfield's staff was handling most of the operational duties last summer.
The search for a new director began in November, according to Jim Steinberg, who took over as board president when Tarnoff left.

Steinberg said that Perry-Mansfield worked with an outside firm on the hiring process, which brought in 85 responses. In April, the field was narrowed to six people, who were brought to Steamboat Springs for a visit.
The top three candidates were brought back for a full day of meetings with staff and board members.
"She has had a wonderful background as dancer, as a teacher, as an administrator and as a fundraiser," Steinberg said about Lazarus. "She comes with all the tools that she will need. She's very enthusiastic and very knowledgeable."
Lazarus said she was offered the job in mid-May and plans to arrive on campus this week. She said her dog, Rizzo, already is sitting by the door, excited about the coming road trip.
"It's so beautiful," Lazarus said about the Yampa Valley. "But the real crux of the matter is it's about the job and what Perry-Mansfield is and the place it holds in the performing arts world."
Lazarus said she first heard about Perry-Mansfield while in college at the University of Indiana. A ballet dancer her whole life, Lazarus took her first modern dance class from T. Ray Faulkner, who once worked at Perry-Mansfield and also served on its board.
"She always talked about it like it was this magical, magical place, where almost anything could happen," Lazarus said.
Lazarus danced in several regional companies and earned master's degrees in dance and arts administration.
Later in her career, when Lazarus was a professor at the University of Oregon, her dance history curriculum included the storied tale of Charlotte Perry, Portia Mansfield and the school they built in the woods of Strawberry Park.
In 1998, Lazarus founded DanceArt, a nonprofit in the San Francisco Bay Area that supports dance theater, choreographers and productions through consulting, capital projects and outreach education.
She also served as the executive director of the Oakland Ballet and the WestWave Dance Festival of new choreography.

She said it's bittersweet to leave DanceArt and all the studios she has taught dance at, in and around San Francisco.
But Perry-Mansfield, which turns 100 next year, holds a bright new future for her. She said she's looking forward to helping plan the school's centennial year and the next hundred years beyond that.
"For the summer, I need to come up to speed on what all the programs are and who everyone is and to really get a sense of the community," she said.
This summer, Perry-Mansfield will serve more than 200 young campers in theater, dance, production and equestrian programs, Steinberg said.
The season officially kicks off with the New Works Festival on June 15, which brings professional writers and some of the top performing arts students together to develop new pieces in dance and theater.
"We have a lot to look forward to," Steinberg said. "The performances are looking great and the New Works is looking great. As a run up to next summer, we're very excited."
To reach Nicole Inglis, call 970-871-4204 or ninglis@ExploreSteamboat.com