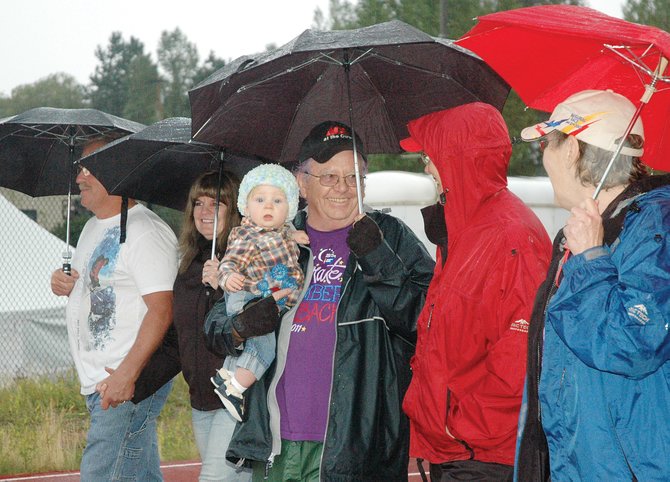 Steamboat Springs Relay For Life raises more than $41K Friday night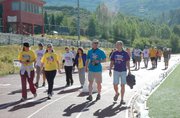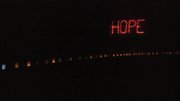 By the numbers
1,200: Number of laps completed by the Salty Dawgs team (300 miles).
$8,000: Amount raised by the top fundraising team, the Old Teachers.
$41,000: The approximate amount of money raised at the time of the last lap Saturday morning (is expected to increase).
4: Number of participants who raised more than $1,000 each (Bill McKelvie, Jennifer Stoddard, Kay Wagner and Carolyn Deverell).
16: Number of teams in the seventh annual event.
116: Number of participants in the event.
Steamboat Springs — An evening downpour and strict fire restrictions afforded obstacles, but if any group knows how to face and overcome obstacles, it's the participants and organizers of the Steamboat Springs Relay for Life.
About 50 cancer survivors and their caregivers gathered on the Steamboat Springs High School track Friday evening, and a steady rain didn't dampen their smiles.
Even 6-month-old Nicholas made his way around the track under an umbrella and in the arms of his grandfather, Rick Peters.
Peters, who has been in remission from melanoma for 12 years, hopes Nicholas will grow up in a world in which cancer is curable.
"We have a lot of friends that can't be here because they're not doing so well," Peters said. "Cancer sucks."
He participated in his third Relay For Life with his wife, Carolyn, and her sister Liz Croes. Last year, they walked in honor of Croes, who attended the event but barely could walk around the track because of the side effects of her chemotherapy.
"Last year, I didn't know if I was going to make it through treatment," Croes said. "And here I am.
"They send strength," she said, gesturing around her at the other survivors and participants. "You give it, and you get it at events like this. It really multiplies."
The trio walked this year for someone who couldn't be there. Julia Pollock, a co-worker of Rick Peters', is at home in Brighton, where she is suffering from a rare terminal form of cancer. She also is a breast cancer survivor.
Sarah Blakeslee, a Steamboat native and staff partner with the American Cancer Society, said this event is about family and a sense of community.
"It's amazing how you all pull together for a cause that touches us all," Blakeslee told the crowd of about 100 braving the rain at the opening ceremony. "I'm so proud of this Steamboat community because this is what we do."
Lighting the night
In all, 116 participants walked the track Friday night, raising more than $41,000 at the time of the last lap Saturday morning. The funds go to the American Cancer Society to be used for treatment research.
Blakeslee said the event should come close to reaching its goal of $60,000 as the rest of the funds come in this week.
Four participants raised more than $1,000 each, and the Old Teachers team raised about $8,000. Last year, the event raised $54,000 with 160 participants. The year before netted more than twice as much.
On Friday evening, the rain let up and the sky exploded into a spectacular light show of gold and a double rainbow. When night fell, the event's volunteers turned on hundreds of small LED lights inside the luminaria bags, each decorated in honor or in memory of someone who has had cancer.
The lights typically are candles, but fire restrictions altered the tradition a bit this year. Still, the bags represented hundreds of stories of survivors, those still fighting the disease and those who have been lost.
"For some people, it's a celebration, but for others, it's … a time to grieve," said Kathryn Pederson, a member of Steamboat's Relay For Life organizing committee. "In the middle of the night, it can be a really quiet moment."
Miles of hope
It was a long night, and 12-year-old Zeke Kinnison tried to make it as far as he could. He was walking for his younger brother, Izaac, who is just finishing up a round of chemotherapy this weekend in Denver for a brain tumor that was discovered in May.
Zeke was shooting for 26.2 miles — a full marathon, like the marathon of treatment his brother is going through — but at about 5:30 a.m., he fell asleep in his tent, unable to walk another step.
"It feels good except for on my feet. They hurt," he said while taking his last lap Saturday morning.
In all, he walked 20 miles. Izaac's team, the Salty Dawgs, walked more than 300 miles Friday night, amounting to more than 1,200 laps around the track.
"There are a lot of people," Zeke said. "And we didn't really know how they felt, and now we do."
Zeke said that after a brief nap, his family will head to Denver to see Izaac and will participate Sunday in another cancer research fundraiser: a 5K walk in Denver. But all the walking feels good, he said.
"It just feels like you're doing what you should be."
To reach Nicole Inglis, call 970-871-4204 or email ninglis@ExploreSteamboat.com