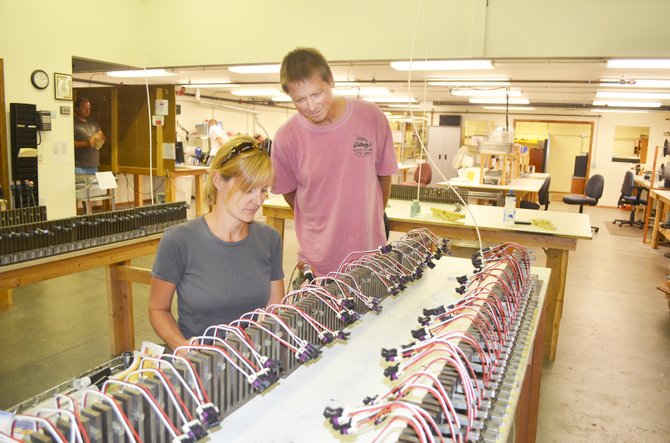 Sensor Solutions an unassuming, high-tech manufacturer in Steamboat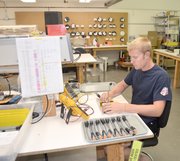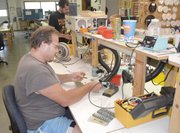 Steamboat Springs — The business with the most elite client list in Steamboat Springs just might be a local business you've never heard of.
Dave Lorenzen's Sensor Solutions is tucked away in a west Steamboat light industrial park with barely a sign to announce its presence. But clients including Chrysler, John Deere and Caterpillar depend on the magnetic sensors designed and built right here in Steamboat by Sensor Solutions to help them ensure their own products are operating properly.
Magnetic sensors built by Sensor Solutions can be found on U.S. Navy nuclear submarines (don't even ask what they do).
And there were Sensor Solutions products on board the SpaceX Falcon 9 rocket that delivered the Dragon spacecraft to its historic docking with the International Space Station in May. It was the first commercial spacecraft to achieve that mission.
The struggling national economy has affected Sensor Solutions, but some of the business it lost in the past few years has been offset by other sectors of the economy.
"We've lost some business in construction-related industries, but our business in biomedical has tripled over that time," Lorenzen said. "The world economy is a problem, but what's been keeping us going is companies like Caterpillar and John Deere that are tied in globally."
Lorenzen is the president of Sensor Solutions and has a degree in electrical engineering from the University of Wisconsin-Madison. He started his company in Summit County in the late 1990s and moved it to Steamboat in 2005. The company occupies about 6,000 square feet of uncluttered space in the Wescoin Meadows Building in Elk River Business Park. It's about the right size, he said, for his company of 14 employees, with five engineers among them if you include the boss. Typically, there are two engineering students on staff from Colorado Mountain College's Alpine Campus.
Sensor Solutions' niche is designing and building unique sensors and delivering them on a short turnaround to customers who need a handful or a few thousand of the devices at a time. By remaining small — and filling a niche below giant companies like Honeywell, for example — Sensor Solutions can remain nimble and responsive to client requests.
"Orders of 10,000 to 20,000 sensors are a good number for us," Lorenzen said.
Sensor Solutions' devices are designed to give its industrial customers feedback about the movements and positions of moving metal parts in machinery.
Typically, the sensors comprise a magnet in a housing tethered by a bundle of wires to a circuit board, sometimes about half the size of a commemorative postage stamp. Some of the sensors being assembled in the plant this month ranged in length from about 8 to 12 inches.
The circuit board, fitted with capacitors and resistors, interprets changes in the field of a magnet that correspond to the movements of a piece of ferrous metal. The result is the ability to track movement, direction, speed and penetration of metal parts in various kinds of machinery, all vital information to the customer.
A concrete example, Lorenzen said, is a valve on a piece of machinery. The sensor can tell the microchip or control board in a machine whether a valve has closed properly.
The practical applications are many and varied.
John Deere, for example, uses a custom Sensor Solutions sensor in a farm implement to monitor the rate at which liquid fertilizer is being applied to a field, Operations Manager Nathan Ward said. Given a GPS device on the implement, the sensor can help adjust the application of fertilizer as the machine encounters varying soil types across a large field.
At Chrysler, Sensor Solutions devices play a role in the assembly line of auto and truck transmissions, Lorenzen said. When a transmission is completed, sensors descend from the assembly line to peer through the aluminum housing and ensure that critical clips and springs in the transmission are right where they need to be.
Another company incorporates Sensor Solutions' devices into hybrid delivery vehicles. They help to manage the transition from the vehicles' demands for power from gasoline/diesel engines to electric, for example.
Despite the level of detail Sensor Solutions works with, Lorenzen has succeeded in creating a relaxed working atmosphere.
T-shirts, shorts and flip-flops are the uniform, and the ski rack by the front door is a symbol of the fact employees are free to arrive at work at 11 a.m. and work until 9 p.m. on powder mornings.
"That's unusual in the high-tech industry, but I've found it puts your employees in a good place mentally," Lorenzen said. "They're out there living life, they're happy and I don't have to crack the whip. It's been a recipe for success."
But the freedom to play in the Rocky Mountains that Sensor Solutions affords its employees shouldn't be misunderstood. They're all business when they're at work. Lorenzen said new employees, including the craftspeople who do the delicate assembly of sensors, are hired for a two-month period that allows him to see whether they are quick learners who pose questions that reveal a growing understanding of the nature of the work.
He has designed a four-step training approach that gives employees structured feedback about how to properly carry out their tasks. If it doesn't appear to be a good fit at the end of two months, they aren't retained.
Lorenzen said the availability of general aviation at Steamboat Springs Airport and the UPS hub are critical to the existence of his business in Steamboat. He promises his clients quick turnarounds on emergency orders, sometimes within a day. In rare instances, large corporate clients even have dispatched aircraft to Steamboat to fetch the sensors they need to keep their own manufacturing line up and operating.
But the availability of cross-country ski trails, powder runs and good bike shops also are important to a business adapted to the Steamboat lifestyle, Lorenzen said.
"It's somewhat of a high priority," he concluded.
To reach Tom Ross, call 970-871-4205 or email tross@SteamboatToday.com