Eugene Buchanan: End of an era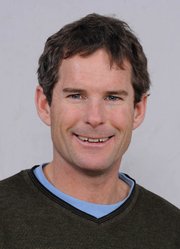 Steamboat Springs — Well, I've done it. I've done gone and reached the end of my soccer coaching era in Steamboat.
With the end of the Steamboat Mountain Soccer Tournament on July 15, my daughter Casey, 9, officially has graduated from recreational soccer to competitive soccer. And that means she, and the rest of her teammates, need someone with a few more coaching credentials than I possess — perhaps someone whose career spanned more than playing for the Boulder High Bagels intramural team.
I knew this day was coming. I coached my daughter Brooke's teams from age 5 to 10 before she, too, moved on to greener coaching pastures.
But it's been a good run, even if it meant tying more shoelaces than teaching soccer skills. And the kids got better each year until they could juggle better than I could — more thanks to their growth spurts than any words of wisdom I imparted to them.
There are things I surely will miss. Like answering incessant questions about shirt, shorts and sock colors or coming home from a game with a pocketful of earrings, scrunchies and hair clips, begrudgingly taken off by the girls in front of the referee at midfield.
There no longer will be an array of lost water bottles to clutter our mudroom cubbies. No more losing program-issued soccer balls and sheepishly returning an empty net bag at season's end. No more admonishing someone to stop blowing dandelions in the middle of a game or stopping games because of ladybugs. No more asking for team name ideas only to see 15 hands shoot up in the air with different suggestions. And no more having to settle for the less-than-intimidating "Pink Petunias," only to face the "Annihilating Death Ninjas" in the first game of the season.
There will be no more catching grief for showing up with a rubber band still around my pants leg from biking. No more balls disappearing down a flooded Spring Creek, prompting a safety talk from a firefighter who warned us not to retrieve them. No more bears disrupting practice. No more reprimanding my daughter and her friends when they showed up late the first time they walked from school to practice, unbeknownst to me stopping in the high school nurse's office to treat a scraped knee.
No more studying the coach's manual and improvising such skills-building games as Red Light/Green Light, Pac Man, Red Rover, Simon Says, Bombs Away and, the kids' favorite, Cream the Coaches. No more four-count burpies, evoking actual burps, during warm-ups.
No more team cannonballs into the D-hole after a game. No more having only one practice on grass before the Grand Junction tournament, the rest coming on scoria-filled parking lots (Coach's note: Bring more Band-Aids). No more trying in vain to remember who substituted for whom and when in a game (Coach's hint: interchangeable wrist bands with positions written on them).

No more cringing at goal kicks, knowing the other team likely will pounce on them and score. No more getting trounced at tournaments, getting one shot off in three games only to see our kids still having the time of their lives. No more playing Sharks and Minnows in overly chlorinated hotel swimming pools while "resting up" for the next morning's game. No more watching the girls come up with their own cheer and dance for the other team or basking in a lone tournament victory.

No more camping in Grand Junction, skateboarding with lacrosse sticks behind bikes, organizing the world's biggest water fights and carbo-loading with s'mores.
Sure, I'll still do some of these things in my continued role as a parent. But I'll cheer on neutrally for "Steamboat" from the sidelines instead of calling out instructions.
As far as playing out-of-town teams, I hope my record doesn't speak for itself. We got crushed by those who play year-round. But while my techniques might not follow the system that leads to a pro career, I like to think they instilled a love for the game, helped the kids work as a team and, above all, helped the girls have fun.
In a 10-year run, I learned more from them than they did from me, and I look forward to seeing them progress even further as the next group of coaches takes the reins. And girls, call me anytime if you're still missing a scrunchie.
Eugene Buchanan is the magazines editor for the Steamboat Pilot & Today. He can be reached at 970-870-1376 or ebuchanan@SteamboatToday.com.