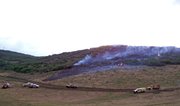 Craig — Craig Fire/Rescue, Moffat County Sheriff's Office and Bureau of Land Management firefighters responded at 7:30 p.m. Friday to a wildfire burning 10 miles south of Craig.
The Knez Fire, located on private property off the Knez Divide Road, was ignited by a lightning strike, said Lynn Barclay, public information officer for the Northwest Colorado Fire Management Unit.
Two dozers from nearby Trapper Mine also responded to the scene to construct fire breaks.
Craig Fire/Rescue Chief Bill Johnston was serving as incident commander.
At 10:30 p.m., the fire had consumed an estimated two acres, and crews were close to completing a fire line around the perimeter of the blaze.
Read the full story at the Craig Daily Press website.