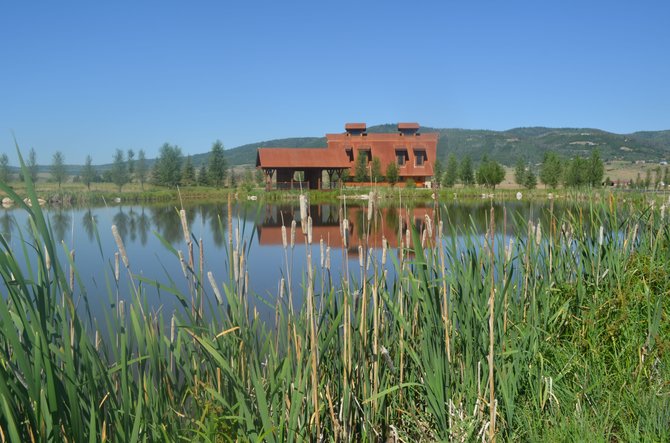 Pedal, petal combine at Kitchen and Garden Tour in Steamboat
2012 Strings Kitchen and Garden Tour
The Strings Kitchen and Garden Tour benefiting Strings Music Festival and featuring seven properties in Storm Mountain Ranch, the Anglers Pond neighborhood and the south valley is from 8:30 a.m. to 3:30 p.m. Saturday.
The tour kicks off at 8:30 a.m. at the Strings Music Pavilion with a light breakfast. There will be live entertainment from some of Steamboat's finest musicians at many of the homes on the tour, and there's even a bike taxi to shuttle you down some of the longest driveways. This year's tour will feature a lunch stop at an extravagant barn on a property boasting 25 acres of gardens.
■ VIP Tour, $65: Gather friends and take advantage of an air-conditioned VIP bus, learn from a master gardener and enjoy door-to-door service (this option includes lunch and a VIP goodie bag).
■ Bike Tour, $25: Bike the 17-mile moderate ride along Steamboat's scenic byways at an elevation of approximately 6,700 feet. Support vehicles will be circling the route to help cyclists.
■ Self-guided, $25: Pick up a map, and you're off.
■ Picnic lunch, $15: Have a picnic lunch waiting for you at a designated lunch stop. Lunches will be provided by Backcountry Provisions.
To register for the tour, visit www.stringsmusicfestival.com.
Past Event
Saturday, July 21, 2012, 8:30 a.m. to 3:30 p.m.
,
Not available / $25 - $65
Steamboat Homefinder
Visit SteamboatHomefinder.com for more real estate news.
Steamboat Springs — The 17th iteration of the Strings Kitchen and Garden Tour is about petals and pedals.
Throughout the years, the tour has developed into the top fundraiser for the Guild of Strings Music Festival as well as the best opportunity for the public to glimpse some of the finest homes in Steamboat Springs and their outdoor living spaces.

In a continuing effort to make the tour bicycle friendly, this year's homes have been chosen to reduce the route from 35 miles to 17 miles with a concentration of destinations in the Storm Mountain Ranch and Anglers Pond neighborhoods. And for those who choose to take a motorized, self-guided tour or a hosted tour in a luxury van, there's still a chance to honor Steamboat as Bike Town USA: Big Mountain Pedicab will ferry guests from Jim and Susan Larson's barn off Colorado Highway 131 to the gardens surrounding their home about a quarter-mile away.
Chloe Lawrence, of Steamboat Village Brokers, one of the organizers of Saturday's event, said the neighborhood theme will continue to be a feature of Kitchen and Garden Tour events to come, and the shortened route will make it more appealing for people to use pedal power to get out and seek inspiration from some of the innovations reflected in the homes.
Organizers know that most people who set out on the tour will take the self-guided version. But for those who take the opportunity for exercise via two wheels, there will be support vehicles cruising the route to offer assistance.
"I'm excited. I think this will be one of the best tours ever," Lawrence said. "The homeowners have been so generous."
The homes on the tour include an Asian-inspired residence with carefully placed art that reflects a global outlook. There's a modern castle located at the mouth of Walton Creek Canyon in Storm Mountain Ranch and an arts and crafts home at Anglers Pond that carries the theme right down to handmade furniture pieces.
Another home has no fewer than 25 acres of gardens, including a vegetable garden.
Lawrence said this year's tour, with the unusual summer heat and drought, affords a learning experience through the master gardeners available for questions at each of the homes.
The tour always shows off blossoming flowers. The decorative and flowering plants that continue to flourish in mid-July despite the conditions illustrate how to landscape for extreme weather.
New this year is the option of purchasing a picnic lunch provided by Backcountry Provisions. Lunch will be served in the Larson Barn. There is an additional fee of $15 for lunch. After dining on a sandwich or salad, participants may set out along the quarter-mile drive to the gardens surrounding the Larson home while admiring reflections of the Western-style barn in one of three ponds that define the landscape.
And it's at the Larson residence where visitors have the option of taking a pedicab ride to the gardens surrounding the home. There, they'll find a well-maintained vegetable plot behind a wildlife fence with an abundance of lettuce and fingerling potatoes growing in tubs.
The home, architected by Keith Kelly, of KSA, and its kitchen will not be open for the tour, but you can admire the miniature "par 2" golf hole across its own water hazard.
Other destinations on the tour include:
■ Rich and Ginny Srednicki's home on Walton Creek that blends Western themes with castle-like features the owners appreciated after living in Europe for many years. Vertical Arts, of Steamboat Springs, was the architectural firm, and Paul Ferguson was the builder.
■ Ben and Starlett Hollingsworth's home on Water Song Lane, where the traditional Western themes are exemplified by antique barn wood on the interior walls and an abundance of wildlife art as well as hunting trophy mounts. Architect Bill Rangitsch, of Steamboat, designed the home, and Green Scenes was the creative force behind the landscaping.
■ Donna Garth's home on Fox Lane with views of the ski mountain and a large southwest-facing deck rimmed with a large variety of mountain perennials. Architect Eric Smith Associates and Shively Construction collaborated on the home.
■ Just down the street from the Garth home, Mike Branham and Betsy Searle's home is designed for outdoor living, with a fire pit in the midst of extensive decks and water features. Elk River Construction built the home.
■ Also on Fox Lane, the home of Michael and Michelle Osterman, designed by architect Joe Robbins, takes full advantage of views of Mount Werner. Here, you are welcome to take photographs of the stunning sweep of the home's roof line.
■ Finally, the magnificent kitchen of Mike and Michelle Parra's Anglers Pond home brings nature inside with heavy beams and a fireplace that is an anchor to the kitchen and great room. Gillaspie Construction, of Steamboat, built the home.
To reach Tom Ross, call 970-871-4205 or email tross@SteamboatToday.com