If you go
What: Sunshine Loop Town Challenge Mountain Bike Race Series event
When: Wednesday; youth races begin at 5:25 p.m., followed by adult divisions at 5:40 p.m.
Where: Steamboat Ski Area. For full course descriptions, go to www.townchallenge.com.
Cost: Race-day registration is $30 and begins at 4:30 p.m. at the base of the Christie Peak Express lift. Pre-registration is $20 for adults and is available at www.townchallenge.com
Photo Gallery
Town Challenge Sunshine Loop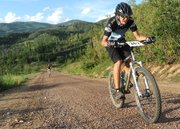 2012 Town Challenge schedule
Steamboat Springs — Last year, Mount Werner won. 
It threw racers around, ate up their tires and even sent one to the hospital after a crash on Zig Zag. 
But rest assured that most of those riders will be back Wednesday for the 2012 Town Challenge Mountain Bike Series' first trek up Steamboat Ski Area. After several races on Emerald Mountain and one dusty ride at Marabou Ranch, riders will get their chance for revenge on Mount Werner. 
The Sunshine Loop cross-country returns to Steamboat Ski Area on Wednesday. Youth races begin at 5:25 p.m. The pro/open division begins at 5:40 p.m. with subsequent adult divisions to follow. 
All racers will begin at the base of the Christie Peak Express lift and climb Zig Zag toward Thunderhead. 
The pro/open, expert and singlespeed classes will cover 14.3 miles. That course goes up Zig Zag to Valley View, Spur Run, Elkhead and on toward the Rainbow saddle. It then climbs Duster, completes Sunshine and takes a hard left onto the Chisholm Trail. 
Riders then descend down Rainbow saddle toward Thunderhead, followed by descents of Tenderfoot, Wrangler Gulch, E-Z Rider and Zig Zag before a sprint to the finish.
Other divisions will follow a similar course but will go shorter distances. 
Last year, Town Challenge series co-champ Brad Bingham was the class of the race, finishing in 1 hour, 17 seconds. Peter Kalmes, who is undefeated in three races this season, was second in 1:01:18. Tammy Jacques won the women's race, finishing in 1:10:44. Kelly Boniface was second in 1:14:09. 
Registration begins at 4:30 p.m. at the start area. The cost is $30 for adults and $15 for children. For more information or for complete trail descriptions and course maps, visit www.townchallenge.com.
Sunshine Loop pro/open course, 2012