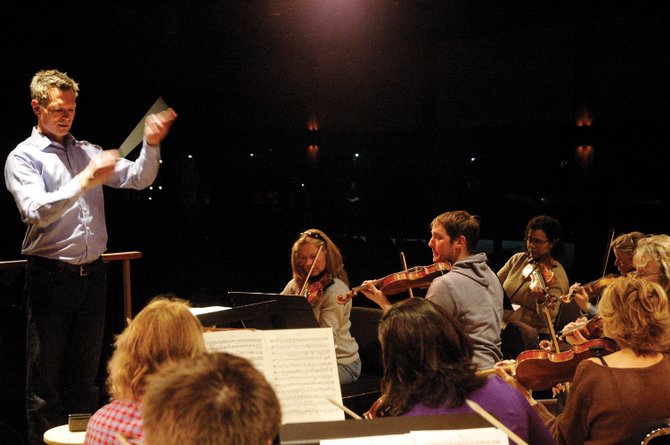 'Stars Wars', Steamboat themes color orchestra's season
Past Event
Sunday, July 8, 2012, 6 p.m.
Catamount Ranch and Club Golf Course, 33400A Catamount Drive, Steamboat Springs
Not available / $150
Steamboat Springs — The Steamboat Symphony Orchestra's 21st season will arrive with triumphant fanfare at its opening concert when the local ensemble plays the first notes of John Williams' "Star Wars Suite."
Falling during the fourth annual Steamboat All Arts Festival, the concert will take place at 7 p.m. Aug. 18 at the Strings Music Pavilion. Tickets are $35 in advance. The orchestra also will play Sibelius' Symphony's No. 2 to start off the season.
"The first concert we're doing is an extremely challenging program," Symphony Orchestra music director and conductor Ernest Richardson said. "The 'Star Wars' program is very beautiful and very well-written … he expects a virtuosic orchestra. Everybody knows the music very well, so you really have a high standard."
But the orchestra season really ramps up Sunday at the annual kickoff celebration and fundraiser at Catamount Ranch & Club. Starting at 6 p.m., the $150 event will feature entertainment from orchestra musicians and a chance to meet Richardson.
The orchestra's season features several ensemble and community events throughout the fall, including a "Meet the Orchestra" performance Sept. 28 and a community concert featuring musicians of all ages Oct. 26.
The Steamboat tradition of the orchestra's holiday concert falls on Dec. 1 and 2, featuring Schubert's "Unfinished Symphony" and holiday favorites and sing-a-longs.
For the annual spring concert, the orchestra aims to connect with Steamboat heritage, offering Copland's "Suite from Billy the Kid" and the Olympic theme by John Williams.
Richardson said the orchestra wants to help celebrate the Steamboat Springs Winter Sports Club and the 100th anniversary of the Winter Carnival.
"What we're hoping to do with that is show the history of the Winter Sports Club and reference the current Olympians, the reigning Olympians and the Olympians of the future," he said.
The Spring Concert is Feb. 10 at Strings Music Pavilion.
Visit www.steamboatorchestra.org for more information on the upcoming season.
— To reach Nicole Inglis, call 970-871-4204 or email ninglis@ExploreSteamboat.com