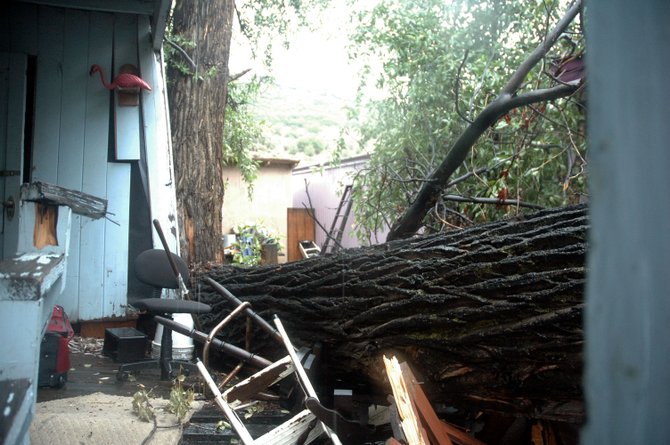 No one injured after tree falls in Dream Island
Steamboat Springs — Flor Miranda, 14, was watching a movie with her 6-year-old brother in their Dream Island home Friday evening when they heard the crash.
"All we heard was it smash down and heard all the leaves falling," she said. "It was loud."
She immediately went outside to see what happened.
A large cottonwood tree had fallen right next to their mobile home during the heavy rainstorm, and it lay vertically in the yard between the Miranda family's house and their neighbors. The trunk of the tree had smashed their neighbor's porch and the limbs of the tree dented the Miranda family's roof as it fell. The top of the tree was draped across another tree that stood in their front yard.
Her family's two dogs were out playing in the yard when it fell, but Flor said they were both fine, though shaken up.
Steamboat Springs Fire Rescue firefighters and Steamboat Springs Police Department officers responded to the call. Officer Evan Driscoll was on scene and said that no one was injured in the accident.
"Everybody inside was fine," he said. He had pictures of one ceiling in the Miranda family's house that was damaged by one of the branches.
No one was home in the other house, and Driscoll said the responders had not determined the cause. A tree company arrived later to dispose of the tree.
Flor thinks it could have been caused by either wind or lightning.
"I think we were lucky," Flor said. "I think God was strong."