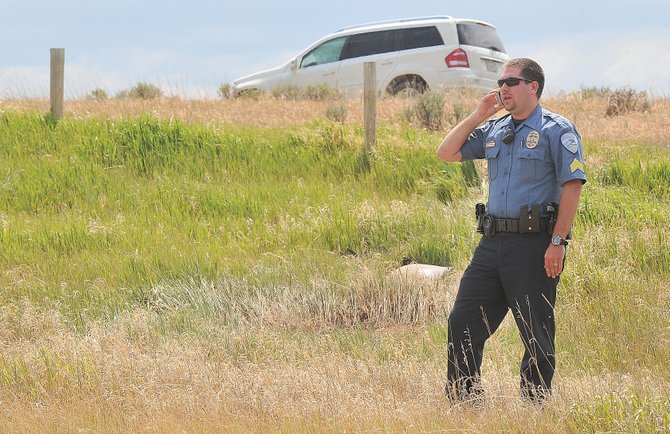 Police: Woman hurt after fleeing officers in SUV
A 57-year-old woman was hospitalized Thursday afternoon after crashing her SUV while fleeing from Steamboat Springs police.
Police officials say Officer Sam Silva approached Barbara Escajeda in the parking lot of the Routt County Justice Center just after 3 p.m. Thursday. Local law enforcement agencies had been told to be on the lookout for Escajeda, who was wanted on an arrest warrant for violation of a protection order.

Sgt. Scott Middleton said Escajeda was uncooperative and refused to get out of her vehicle. After a short exchange with Silva, Middleton said Escajeda put on her seat belt, threw the car into reverse and exited the Justice Center parking lot at a high rate of speed. Silva pursued the SUV for a short distance before backing off, as per department policy, Middleton said.
"Once he realized that the woman was not going to stop he called off the pursuit," he said.
Silva's pursuit ended once Escajeda drove over the James Brown Soul Center of the Universe Bridge, but he continued to follow her as she drove south on Routt County Road 33 (Twentymile Road) away from Steamboat Springs. Silva saw the SUV exit the county road less than a mile later onto a private drive leading to Wolf Mountain Ranch, Middleton said. Several hundred yards up the driveway, Escajeda's SUV left the paved surface.
The SUV flew off the driveway and slid approximately 100 yards before coming to a rest on its wheels in the middle of a field. At that point, officers said Escajeda exited the vehicle and tried to flee the scene. Silva caught the woman about a quarter of a mile from the accident scene at the bottom of a steep slope, where she was subsequently arrested.
Escajeda injured her ankle and arm in the crash and also hit her head on the windshield of the SUV, police said. An ambulance crew transported her to the Yampa Valley Medical Center for treatment.
Middleton said he expected Escajeda to be arrested on the warrant and other charges as soon as she is released from the hospital.
To reach John F. Russell, call 970-871-4209 or email jrussell@SteamboatToday.com