Fifth annual Piknik Theatre Festival schedule
Friday: "Twelfth Night," Yampa River Botanic Park
Saturday: "Tartuffe," Yampa River Botanic Park
Sunday: "Twelfth Night," Bud Werner Memorial Library
July 11: "Tartuffe," Yampa River Botanic Park
July 12: "Twelfth Night," Yampa River Botanic Park
July 13: "Tartuffe," Yampa River Botanic Park
July 14: "Twelfth Night," Yampa River Botanic Park
July 15: "Tartuffe," Bud Werner Memorial Library
July 18: "Twelfth Night," Yampa River Botanic Park
July 19: "Tartuffe," Yampa River Botanic Park
July 20: "Twelfth Night," Yampa River Botanic Park
July 21: "Tartuffe," Yampa River Botanic Park
July 22: "Twelfth Night," Yampa River Botanic Park
• All shows are free and start at 6 p.m.
Photo Gallery
Piknik Theatre Festival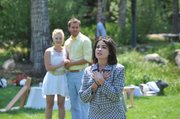 The annual free outdoor theater series kicks off Friday, July 6 with Shakespeare's "Twelfth Night."
Steamboat Springs — Molière's "Tartuffe" is a comedic play when set during the traditional the 17th century.
Now, imagine it set in the 1980s.
Cut-offs, sunglasses, harmonic synth-pop and contemporary jokes punctuate a new musical adaptation of the traditional French play, which will debut Saturday at the Yampa River Botanic Park as a part of Piknik Theatre.
"There's a lot of twists and turns in there," said Adam Donald, writer and director of "Tartuffe" and a visiting actor from New Zealand. "It's very funny, and we've written it specifically for the audience."
Rachel Pollack, a former Steamboat resident now studying theater, is the stage manager for the production.
"There's a big ol' redneck joke in there," she added. "But we've made it really kid friendly."
The fifth annual Piknik Theatre Festival kicks off Friday with a performance of Shakespeare's comedy "Twelfth Night."
The free, outdoor theater series runs through July 22 with performances of either production taking place at 6 p.m. Wednesdays through Sundays at Yampa River Botanic Park. Two of the Sunday performances will take place at Bud Werner Memorial Library.
Produced by the Great American Laughing Stock Co. and its artistic director Stuart Handloff, Piknik Theatre brings professional actors from a theater school in New Zealand to work on two productions, devise new works and lead children's drama camps.
"I love hanging out here in the summertime," Donald said. "It's winter back home. This is almost like a residency, and it's really good for me as an artist to experiment."
Kiwi Martine Gray said this is her second year traveling to Steamboat for Piknik Theatre.
"It's so much fun, I'm really enjoying the singing and dancing," she said about starring in "Tartuffe." "it's very ridiculous. I think people will really connect with the '80s.
Local actors also participate in the productions, like Steamboat Springs High School graduate Sophie Myller who, like many of the other Piknik Theatre actors, is balancing both "Tartuffe and "Twelfth Night."
"I like the meeting of the new people," Myller said about the experience. "It's a lot of work, and it's opening me up the idea of doing two shows at once."
Piknik Theatre is free to spectators, who are welcome to bring food, blankets and children of all ages. Donations are welcome and support the not-for-profit festival.
"I love the relaxed atmosphere," Gray said. "The audience is right there and there's a cool, calm, atmosphere, like a celebration."
— To reach Nicole Inglis, call 970-871-4204 or email ninglis@exploresteamboat.com