Steamboat teen sentenced to alternative prison program
Tuesday, January 31, 2012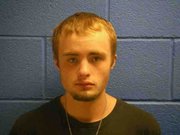 Steamboat Springs — An 18-year-old Steamboat Springs resident who broke into several downtown businesses in May has been sentenced to four years at a facility in Craig that is used as an alternative to prison.
Judge Shelley Hill sentenced William Ellifritz on Friday, telling the Steamboat teen to "grow up."
"Please take advantage of this because if you violate this, I'm not going to see you again; you're going to" Department of Corrections, Hill said.
As part of a deal with prosecutors, Ellifritz pleaded guilty to felony theft and was sentenced to four years in Correctional Alternative Placement Services in Craig. Ellifritz received credit for the 257 days he has been held in Routt County Jail.
The Routt County District Attorney's Office had filed 14 charges against Ellifritz.
"This is a pretty sweet deal for you," Hill said.
The felony charges stated that Ellifritz was with his 14-year-old brother when he burglarized Cantina Mexican Restaurant, Steamboat Meat & Seafood Co., Double Z Bar & BBQ, Brooklynn's Pizzeria and Sage Healing Arts. Ellifritz also faced three misdemeanor charges of criminal mischief related to damage caused to Rio Grande Mexican Restaurant, Double Z and Cantina.
The incidents happened in the early morning hours of May 4. Ellifritz and his brother were arrested about 10 days later.
"I did take responsibility," Ellifritz told the judge Friday. "I never tried to deny what I did. ... I do want to better myself."
Ellifritz was on probation at the time of the burglaries. According to court documents, he was convicted of burglarizing the Steamboat Springs Police Department's remote storage unit in November 2008. Four handguns were taken during that burglary.
"I really truly am sorry to see you here today," Hill said. "You were doing well on probation."
Ellifritz was represented by Routt County Public Defender Sherly Uhlmann. She told Hill that Ellifritz had a difficult childhood, had recently lost his job and had debt.
"He basically went on a methamphetamine binge and started committing offenses," Uhlmann said.
To reach Matt Stensland, call 970-871-4247 or email mstensland@SteamboatToday.com