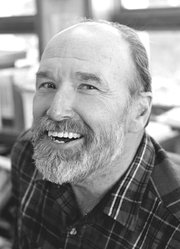 Steamboat Springs — During the past six months, the Routt County community has been holding meetings, attending Planning Commission and Board of Commissioners meetings, participating in oil and gas committees and work groups and trying to learn as much as possible about the impacts of oil and gas development in Routt County.
The overriding goal has been to protect our natural resources and public health for present and future residents of the county, specifically from the preventable negative impacts of oil and gas operations. This effort has had as its goal the management of the coming oil development, not to stop oil development. This effort led by the Community Alliance of the Yampa Valley has been focused at the elected Routt County Board of Commissioners. The Board of Commissioners is the only entity that has the responsibility of ensuring that oil and gas development here is compatible with existing master plans, area plans, community plans and land-use regulations.
It is with much frustration that residents see the present effort as unsuccessful. This breakdown is based on four facts:
The commissioners have rejected most recommendations brought forward by the community to manage oil development because they are unwilling to stand up for Routt County and challenge the threat of pre-emption by the Colorado Oil and Gas Conservation Commission.

The commissioners, with this rejection of their responsibility, are relying on COGCC to protect the environment of Routt County.

The rules and regulations of COGCC are inadequate in scope and specific requirements to protect Routt County from the negative impacts of oil development.

The industry is unwilling to guarantee its use of industry best-management practices in the exploration and development of Routt County's oil resources.
Coming oil development
More than 600 oil wells have been drilled in Routt County since the 1950s. Most are plugged and abandoned. It's important to understand that a 21st-century oil field development is imminent and potentially very large with much different impacts. This fact became clear in a Jan. 13 tour sponsored by Shell Oil and the Community Alliance. Included in the Shell Oil tour were two well sites, just east of Hamilton in Moffat County, a couple of miles from the Routt County line. Four wells had been drilled last summer, and three of these are producing between 150 and 200 barrels each day from the Niobrara Shale, an economical quantity for production. The Niobrara Shale is a formation that already has yielded economical quantities in Northeastern Colorado and Jackson County.
On Jan. 19, Quicksilver Resources reported that its exploratory well on Wolf Mountain east of Hayden has the potential of producing 500 barrels each day. With a reported leased area of 930 square miles in Northwest Colorado, Quicksilver estimated oil reserves in the area of 500,000,000 barrels.
If one adds up the square miles of the oil exploration of Shell and Quicksilver, one comes up with at a minimum of a 20-mile-by-15-mile area in western Routt County equaling approximately 190,000 acres. If this area goes to production, there could be 4,750 wells at the spacing permitted by COGCC of one well per 40 acres.
If one pictures an oil field development, one needs to think of drilling rigs, equipment and machines all hauled by trucks; roads and pipelines; oil being hauled by trucks; the temporary workers for operating all the equipment; the permanent workers for the maintenance of the oil field; and families needing housing and schools.
A new strategy
A comprehensive strategy is needed that not only focuses on creating stronger local regulations to protect air, water, wildlife and the land but also addresses the cumulative impacts of full-blown oil development.
The need to address the cumulative impacts should begin by holding a countywide public meeting. All members of the community and elected officials should be invited. It also is important to invite all entities that will be impacted by a full-blown oil field development, such as boards of education, water boards, fire districts and social service organizations.
The objective should be to create an Oil Field Development Area Plan. This plan will need to address transportation, housing, schools, emergency services, law enforcement, municipal services, social services, health care, etc. This plan should be modeled on a growth management plan like the West Steamboat Springs Area Plan. This plan should be developed in coordination with the industry that will be creating phased drilling and infrastructure plans including pipelines and production facilities.
The creation of the Oil Field Development Plan will be a difficult task. But the community has done it before: the Routt County Open Lands and Vision 2020 were created in response to the threat of residential and commercial growth in the late 1990s. Area and community plans have been created by Routt County and all of our municipalities.
The bottom line is that the community needs to appreciate the magnitude of this development and create a framework that oil development can be managed for the benefit of all. This can be accomplished only through a lot of work by community members educating themselves, elected officials stepping up to the table and industry working with the community.
Ben Beall is a Steamboat Springs resident and a former Routt County commissioner (1993-2001).