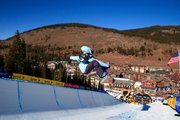 Where to watch
What: Women's snowboard superpipe final
When: 9 p.m. Friday
What: Men's snowboard superpipe final
When: 7:45 p.m. Sunday
TV: Comcast channel 25, DIRECT TV channel 206
Online: www.watchespn.com
Steamboat Springs — The double cork never has been very kind to Steamboat Springs' Matt Ladley.
It's cost him a broken wrist, arm and collar bone in recent years.
But as Ladley prepares for his second Winter X Games in Aspen, the 20-year-old half-pipe snowboarder knows what snowboarding's premier event demands.
"I think last year and earlier this year, I've been getting by and doing well with runs that don't consist of a double cork," Ladley said. "They're so off and on for me. Just a few years ago, there was only one or two people doing them. I've done them and stomped a bunch. I'm just playing with the grabs and figuring what is going to work."
Ladley, whose finals in the superpipe are at 7:45 p.m. Sunday, joins fellow half-pipe snowboarder Maddy Schaffrick as Steamboat's representatives at the X Games.
Schaffrick competes in the finals at 9 p.m. Friday.
Although the two Steamboat snowboarders are among the youngest in their competitions — Schaffrick is the youngest women's half-pipe snowboarder at 17 — each should have a legitimate chance to impress.
Both already have had sterling starts to their seasons.
Ladley recently finished third at a Dew Tour event, and Schaffrick came in second at a U.S. Grand Prix and fourth at a Dew Tour event.
"'Dark horse' probably isn't correct," Steamboat Springs Winter Sports Club snowboard director Jon Casson said about Schaffrick. "She's not one of the elite names, but that's more media driven. Within that community, I think she is seen as a real legit threat."
The two Steamboat athletes shouldn't be wide-eyed. Last year, Ladley made the finals and finished eighth. Schaffrick placed eighth in 2009 and 15th in 2010. She missed last year's event because of injury.
"I'm looking at doing some big tricks, but it's tough to say before you ride the pipe," said Ladley, who also said he'd most likely put down some double corks in practice to see how it goes. "I'd love to podium. If I put down the tricks in my head, I know I can."
To reach Luke Graham, call 970-871-4229 or email lgraham@SteamboatToday.com