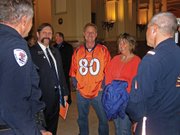 Michele Dunklin, a Steamboat Springs resident who survived life-threatening injuries in a December 2010 car accident west of Hayden, spoke at the annual EMS and Trauma Day at the Capitol in Denver on Jan. 13.
The event serves as an opportunity to inform legislators and the public about the importance of coordination between EMS providers in the field, rural hospitals and regional medical centers to provide the best care available, according to a news release.  
As part of this year's event, Dunklin told legislators how the emergency medical and trauma system helped her survive the accident. She was joined by members of the team that worked to care for her, including West Routt Fire Protection District Chief Bryan Rickman, Flight For Life nurse Nate Hinze and trauma surgeon Dr. Jeffrey Johnson from Denver Health Medical Center.
Steamboat grad Hannah Greene makes dean's list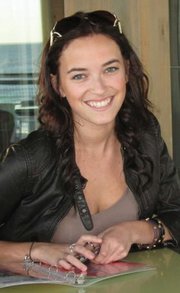 Hannah Greene, a 2008 graduate of Steamboat Springs High School, has made the dean's list for the fall 2011 semester at Coastal Carolina University, where she is pursuing a degree in communications broadcast journalism. Students must have a GPA of 3.5 or higher to make the dean's list.
Madison Struble makes the president's honor roll
Madison Struble, a 2010 graduate of Steamboat Springs High School, has made the president's honor roll with a 4.0 GPA for the 2011 fall semester at the University of Wyoming, where she is pursuing a nursing degree. She is the daughter of Julie Jordan and Bob Struble, of Steamboat Springs.
Registration is open for youth basketball league
Registration is open for the Parks, Open Space and Recreational Services Department's youth basketball league. Youths in third through sixth grades are welcome to play in the noncompetitive league. Registration is $75 and will be accepted on a first-come, first-served basis until the Feb. 2 deadline. Register at the Parks and Recreation Department office, 245 Howelsen Parkway, or download a registration form at www.steamboatsprings.net/recreation. Those interested in coaching should contact Susan Petersen at spetersen@steamboatsprings.net or 970-879-4300, ext. 331.
Winter Carnival Soda Pop Slalom is 10 a.m. Feb. 10
The 99th Winter Carnival Soda Pop Slalom is at 10 a.m. Feb. 10 on Stampede ski run at Steamboat Ski Area. The race is open to skiers and snowboarders ages 11 and younger. Register from 3 to 6 p.m. weekdays from Feb. 2 through Feb. 8 at the Steamboat Springs Winter Sports Club office at Howelsen Hill. All participants must have a Winter Carnival button, which can be purchased for $7 at registration. For more information, call the Winter Sports Club at 970-879-0695, ext. 100.
Northwest Colorado VNA offers $14 immunizations
Northwest Colorado Visiting Nurse Association is offering $14 adult immunizations for a limited time for MMR (measles, mumps, rubella), HPV, varicella (chicken pox), pneumococcal (pneumonia), meningococcal (meningitis), Tdap (tetanus, diphtheria, pertussis) and hepatitis A and B (hepatitis vaccines are for people with risk factors). To schedule an appointment, call 970-824-8233 in Craig and 970-879-1632 in Steamboat Springs.