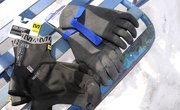 Winter cycling tips
Going for a winter bike ride? Here are some things to consider:
■ Dress the part. Suit up like you're going for a few good laps at the Steamboat Ski Touring Center. That means layers. Two pairs of gloves can be key, a light one for the ride up and a heavier pair for the ride down.
■ Let the air out. Go with your regular bike tires, but be sure to let some air out. Lower pressure helps create more surface contact, which makes for better traction.
■ Everything is new again. Much of the riding is taking place on Emerald Mountain, but even "boring" trails in town can be particularly fun in winter.
"All these in town trails are riding so fun right now, like Butcherknife and behind the high school," Brock Webster said. "I'll do a ride and link every loop in town and it's so fun, when in the summer, it's like, eh ..."
Steamboat Springs — Riding mountain bikes in winter isn't anything new for Brock Webster. Owner of one of the busiest bicycle shops in Steamboat Springs — Orange Peel Bicycles — he long ago realized that those months when the snow is falling and the ski lifts are running offer him the best chance to pedal away from his downtown store.
When the snow on local hiking trails has been stomped down by dog walkers and snowshoers, he's always enjoyed joining in on his bike.
This year is different, he said. Skiers' sorrows have proven to be a boon for bikers. A few brave mountain bikers always find a way to roll Steamboat's trails in winter. This winter, they've found plenty of company.
"This year is special," Webster said. "This is the first winter we've ever had people coming in because they've been wearing out brake pads."
Just like summer
It was skiing that brought Nate Bird to Steamboat Springs 10 years ago. While he's become an avid cyclist in the years since, he still relishes those days on the slopes and continues to coach freestyle skiing with the Steamboat Springs Winter Sports Club.
This marks the only season he can remember when in mid-January it still was possible to use his fingers to count the number of days he has skied.
Mountain biking has offered some needed relief.
"Everybody would prefer to be skiing, but right now, it's a little brutal up there," he said. "We're spoiled here in Steamboat, and Emerald has actually been riding awesome."
Emerald Mountain is at the heart of this biking blizzard. Much of the lower mountain and Howelsen Hill area has given way to Nordic skiing trails, and riding a bike on those is a big no-no. Many of the routes accessed from Blackmere Drive, however, are riding excellent — slippery at times and often narrow, but excellent nonetheless.
"Lupine, Molly's and Eye to Eye, MGM and Blair Witch, all of that is packed down and ridable," said Kelly Boniface, one of the city's most dedicated riders during the summer. "You can even get up Lane of Pain, but once you are up there, you have to turn back around. Quarry Mountain is not packed out."
Cyclists report the riding is slower than in the summer, and crashes are at times inevitable but part of the fun.
"If you get off the hard-packed trail, there's a good chance your wheels will just stop dead," Webster said. "There are a lot of frosty-headed, make-you-laugh crashes."
That hasn't stopped everybody. Webster said the rental business has been brisk, for snow bikes and regular bikes and to locals and tourists. The Texans didn't take to it, but Australians and other foreign adventurers have.
He doesn't budget for any revenue in the winter months. This season, the services his shop has doled out and the winter equipment he's sold have been a sweet surprise.
"It's gravy," he said. "It's so fun right now. I've been up more this winter than I did all summer.
"I saw 40 people up there the other day. It was like a full summer day."
Layered up
Years of Steamboat sense have ensured staying warm isn't the hard part for locals. With a few important exceptions, riders suit up as if they were heading for a cross-country ski outing.
That means tights on the bottom and layers — sometimes a lot of them — on top.
"Every ride is like a load of laundry," Boniface said with a laugh.
She said she wears a tight cap under her bike helmet, as well as a neck gaiter. Riders usually wear shoe covers wrapped around their feet to help fend off the cold, and hauling along two pairs of gloves can be critical. One pair, usually a traditional light summer mountain biking glove, is ideal for the ride up, when the heart is pumping, the blood is flowing and the sweat is soaking. A thicker, warmer pair is good for the ride down.
Snow bikes are designed to get along lightly packed mountain bike trails. They have huge front and rear tires, helping the bikes float instead of dig in, and they usually don't have shocks like a regular mountain bike.
They're the ideal way for beginner and intermediate riders to tackle this winter's trails, Webster said.
Regular mountain bikes have been adequate for expert riders, however.
"You can ride just as fast uphill, but you have to back off a little on the downhill," Bird said. "It doesn't hurt as much when you fall. ... It's been an absolute blast."
The only adaption most are making is lowering the pressure in their tires.
"I just use my regular tires and I run a really low PSI and it helps stick to the snow a lot better," Boniface said.
Cool ridings
For some, the winter of biking will go on no matter the coming weather.
Orange Peel's Essam Welch rides everywhere year-round and even has been hitting the mountain bike trails at night this winter.
Others are hoping this is only a temporary reprieve from a normal Steamboat Springs winter.
"We get to take powder days, and everyone's really been itching to take those days," Bird said about his Honey Stinger co-workers. "But I've just been taking advantage of lunch breaks, going out on the bike and it's like summertime. It's been a blast."
To reach Joel Reichenberger, call 970-871-4253 or email jreichenberger@SteamboatToday.com