Nicole Inglis: Going inside MusicFest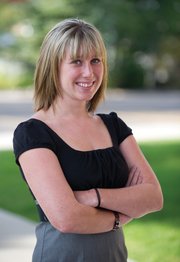 Steamboat Springs — Where he's from in Austin, Texas, Dave Whitney runs Threadgill's, a well-known historic roadhouse that night after night plays home to the town's up-and-coming musicians.
But on Thursday night, he stood smiling on the bar side of Old Town Pub as his vacation began.

From across the room, he watched the stage, where the band Uncle Lucius comprised three young men that once were servers in his bar in Austin — and one of them still is.
But on that stage Thursday night in Steamboat, the four Austin boys were serving up a rocking country dance party.
"I always hope they turn into rock stars," Whitney said. "I love it. … I come out here to support and just to see everybody. Everybody knows everybody."
Uncle Lucius and the opening band Sons of Fathers marked the opening night of the 27th annual MusicFest with their public show at Old Town Pub, which filled the bar by 9 p.m. Crowds were lined up outside the door trying to get in as Sons of Fathers played its first notes.
The annual music festival of about 5,000 people began Friday.
If it isn't apparent by the giant MusicFest tent erected in Knoll Parking Lot or the long lines and shortages of Tito's Vodka at the liquor stores, stop and listen to the next conversation you hear on the street; you might here a few Southern accents. But then again, you might not.
"Why … do you have to be from Texas to come to MusicFest?" asked a young man in Old Town Pub on Thursday, waving his beer in the air for emphasis.
Steve is from Washington, D.C., and he and 12 friends came out from the East Coast for a second year to enjoy the music.
But that's not all. MusicFest participants are here for the extracurriculars, too, and maybe they're not what you think.
"As much as people think, we don't like fighting," Steve said.
Steve is working out with the CrossFit Steamboat group while he's here, and he can't wait to get on skis.
And he's not the only flatlander who came out to MusicFest for the snow.

"I came to ski the trees," said Taylor, a MusicFest participant from Chicago. He seemed just as disappointed as any Steamboat resident about the lack of snow.
"I guess I'm just going to listen to a lot of music and bomb down runs," he said.
After less than 12 hours in Steamboat, Sons of Fathers bassist David Beck said the MusicFest crowds have been "rowdy."
That anticipatory buzz that filled the Pub on Thursday was infectious for the band, which is playing the festival for the first time.
"Everyone comes here for the same reason," Beck said. "To let loose."
To reach Nicole Inglis, call 907-871-4204 or email ninglis@SteamboatToday.com