Photo Gallery
North Routt Community Charter School welcomes students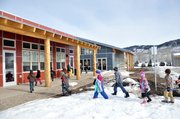 Clark — Wednesday was not a typical first day of school for 5-year-old Jason Heid and the 70 students who attend North Routt Community Charter School.
As he sat on a new chair inside a 12,600-square-foot schoolhouse that was completed just days earlier, the kindergartner soaked in his new surroundings.
"It's so awesome because we have high ceilings now," Jason said as he looked up from a piece of artwork on his desk. "And a wood-burning fireplace."
Seventh- and eighth-grade students playing football outside the new building in Clark also were impressed with their upgraded learning environment. Students said they felt more constricted last semester on the former campus, where classes were held in homes, a tent and a barn.
"It seems surreal to be walking the hallways here," said Maddie King, who was assigned a locker for the first time in her academic career Wednesday.
She said the addition of a cafeteria, larger windows and separate bathrooms for boys and girls were highlights of the new campus.
Calcon Constructors started building the $3.8 million facility in May after the charter school received a $3.2 million Building Excellent Schools Today grant from Colorado's Capital Construction Assistance Program. The remaining funds came from the Steamboat Springs School District, the Gates Family Foundation and a $500,000 grant from the Colorado Department of Local Affairs.
"It's taken awhile to get here, but all the ups and downs have been well worth it," school Director Colleen Poole said. "We've had a lot of teachers say, 'It's so different here.' But I still think it's intimate even though they've got a lot more room to work with. We will work hard to keep that community feel."
The new building is three times larger than the school's former campus and has the potential to expand enrollment from 70 students to about 100.
Students praised the fresh paint and new rooms, but they were quick to announce that while their physical campus has changed, their tight-knit academic community has not.
"It's like moving into a new house, but with the same family," student Cassett Yeager said.
To reach Scott Franz, call 970-871-4210 or email scottfranz@SteamboatToday.com