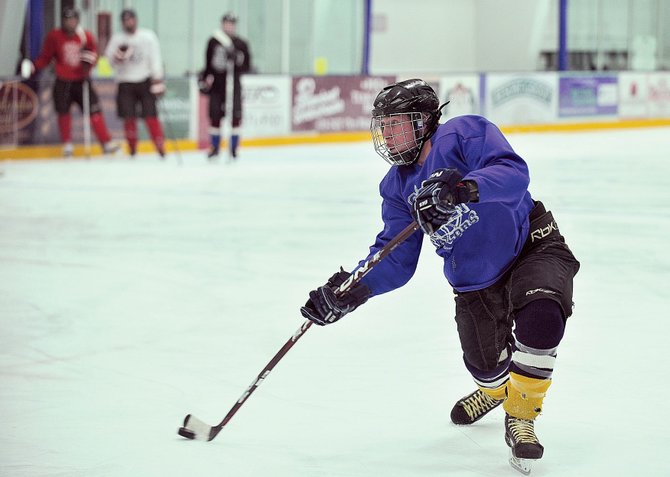 Steamboat hockey to face top seed
Thursday, February 23, 2012
Steamboat Springs — There are a lot of ways to look at Friday's opening-round playoff game with top-seeded Bishop Machebeuf and Steamboat Springs.
On seeding alone, the Buffaloes clearly are superior as winners of the Peak Conference and the top overall seed in the 16-team bracket.
Delve a little deeper, and it becomes clear the 3:45 p.m. game at South Suburban Ice Arena has much more depth.
The Buffaloes may have won the Peak Conference, but the Foothills Conference, where Steamboat grabbed the eighth and final playoff spot, appears to be superior.
The Foothills Conference went 25-6-1 against the Peak Conference this season. Steamboat and Bishop Machebeuf share eight opponents, with the Buffaloes going 5-3 and the Sailors going 3-4-1.
"We gave away points at the beginning of the season," Steamboat coach Jeff Ruff said. "We gave away points that we shouldn't have. We are where we are, but we're coming into this game where we're peaking at just the right level."
Certainly, Bishop Machebeuf should be considered the favorite coming in. The Buffaloes are led by a pair of sly forwards in Max Prendergast (22 goals, 15 assists) and Ty Wagner (16 goals, 15 assists) and have won six of their past seven games.
Steamboat had a head-scratching type of season.
The Sailors' pre-holiday schedule left them at the bottom of the conference standings with plenty of work to make the playoffs. Steamboat went 7-2-1 in its last 10 games, but most of those wins came against teams that missed the postseason.
Steamboat went just 2-6 against playoff teams while Bishop Machebeuf went 6-4.
So what exactly should happen today?
Ruff said the Sailors have to stop the Buffaloes' top line with Prendergast and Wagner and make sure to limit turnovers in their own zone and the neutral zone.
Offensively, Steamboat is about as balanced as it gets, with six players registering at least 19 points this season.
That distribution will be paramount again today. If Steamboat can roll all three of its lines, it will have a good chance at pulling the upset.
"If we clean up our own game, we don't need to worry as much about others," Ruff said. "I think if we can do that, we can play with any of the other teams."
The winner plays at 12:50 p.m. Saturday against the winner of No. 4 Chatfield and No. 5 Fountain Valley.
To reach Luke Graham, call 970-871-4229 or email lgraham@SteamboatToday.com