Steamboat's Bryan Fletcher leads US Nordic Combined Ski Team
Saturday, February 18, 2012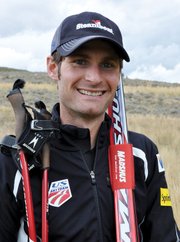 Steamboat Springs — Steamboat Springs' Bryan Fletcher led the U.S. Nordic Combined Ski Team on Saturday in Klingenthal, Germany, posting a 15th place finish.
Billy Demong was 19th, Taylor Fletcher was 23rd, and Johnny Spillane was 30th.
Bryan Fletcher was 17th after the jump and made up almost two minutes in the ski to finish in the top 15.
Spillane had the best jump of the group, jumping to 11th, but struggled in the cross-country ski.
"I thought we were going to be a bit better today," U.S. coach Dave Jarrett said in a news release. "But we just didn't have it."
Action continues Sunday with an individual Gundersen event.