Church vandal told at sentencing Thursday to stay on medication
Thursday, February 16, 2012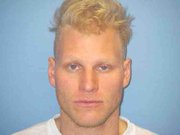 Steamboat Springs — The Routt County District Attorney's Office hopes five years of supervision will keep a Steamboat Springs man on his medications and prevent him from committing any more crimes.
Brede Halsnes, 27, was sentenced Thursday at the Routt County Justice Center related to crimes committed in November. Halsnes was charged with criminal mischief related to breaking a church window and theft related to shoplifting sushi from City Market. He also was charged with felony attempting to influence a public servant related to the threats. He was accused of threatening police, jailers, former President George W. Bush and Christians.
As part of a plea agreement, Halsnes pleaded guilty to misdemeanor theft, criminal mischief and felony attempting to influence a public servant. The felony carries a two-year deferment, meaning he will not face consequences related to the crime if he follows the terms of probation.
As outlined in the plea agreement, Judge Shelley Hill ordered Halsnes to be on probation for five years, follow directions from mental health professionals, pay about $850 in restitution, pay $3,000 in supervision fees, pay court fees and serve 50 hours of community service. Halsnes already has spent about 80 days in jail.
Halsnes' attorney Larry Combs told the court that Halsnes had no way of controlling what he said or did because he had gone off his medications.
"The goods news is, he's back in control now," Combs said. "He looks forward to the opportunity to prove himself."
After being arrested, the court ordered Halsnes to undergo a mental evaluation.
Halsnes told the court that he feared for his life after being arrested, which caused him to make the threats.
"I'm terribly sorry for my actions, your honor," Halsnes said.
Hill told Halsnes that she hopes the potential consequences will give him the incentive to follow the conditions of probation, which include following the directions of mental health professionals.
"You are a completely different man standing before me today," Hill said. "You went off your meds, and you went off the deep end as a result."
Assistant District Attorney Brett Barkey said the plea agreement provided Halsnes with an opportunity to make good decisions.
"I believe our effort was to ensure that there was good community supervision over him," Barkey said.
To reach Matt Stensland, call 970-871-4247 or email mstensland@SteamboatToday.com