Winter Carnival grand marshals
Photo Gallery
99th annual Winter Carnival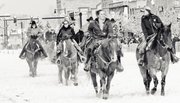 Sunday's events
■ Street events — downtown Steamboat Springs, 9 to 11 a.m.
Children on skis and snowboards are pulled behind horses through the snow-covered streets of downtown. Races include street slalom, skijoring, ring and spear, donkey jump and the adult shovel race. Preregistration is required at the Steamboat Springs Chamber Resort Association. 970-879-0880. FREE with a Winter Carnival button.
■ Diamond Hitch Parade — downtown Steamboat Springs, 11:30 a.m.
The diamond hitch consists of at least four skiers holding on to points of a rope tied in the shape of one or more diamonds. Animals, people or vehicles may pull the skiers down the snow-filled streets. FREE with a Winter Carnival button.
■ Pro Alpine ski flying finals — Howelsen Hill, 1 p.m.
Participants launch off the K114 on Alpine skis and boots rather than the usual ski jumping equipment. 970-879-8141.
■ Parent-child downhill — Howelsen Hill, 1 to 2 p.m.
An adult and child ski together. FREE with a Winter Carnival button. 845 Howelsen Parkway.
For more information, call the Winter Sports Club at 970-879-0695, ext. 100.
Steamboat Springs — Saturday morning dawned with a Yampa Valley tradition older than even the Winter Carnival: a blanket of soft, fresh snow covering Steamboat Springs and the surrounding hillsides.
But even before the lifts started turning on Mount Werner, the powder day was under way in downtown Steamboat on the surface of Lincoln Avenue.
The 99th annual Winter Carnival street events kicked off Saturday morning, closing down Lincoln Avenue for a series of fun, family friendly and distinctively Steamboat competitions.
At 8 a.m., the day's carnival festivities began with a newer tradition — the 100-meter Nordic Sprint hosted by the Steamboat Springs Nordic Council.
Gretchen Jehle, visiting Steamboat from Quincy, Calif., held a rusted, old cowbell in her hand as she stood along Lincoln Avenue waiting for her husband to skate by.
"The snow is fresh and he just wanted to be able to ski on Main Street," Jehle said.
The Jehles were part of a group of about 20 people in Steamboat this weekend wearing another button in addition to the traditional Winter Carnival fundraising buttons. A pink pin-on button honored Bunny Annable, the grandmother of Jehle and Steamboat resident Laurie Beauregard.
Beauregard said the family was visiting her this weekend for Winter Carnival to celebrate the life of "Ski Bunny," who would have turned 100 this week. She passed away last fall at the same age as the Winter Carnival.
"She would have loved it," Beauregard said about her grandmother, who was from Buffalo and skied well into her 90s. "We wanted to celebrate her life here."
Beauregard has lived in Steamboat for 20 years and said the Winter Carnival exemplifies the small-town feel she wanted to share with her extended family.
"People love to come out and see some family fun," she said as she cheered on a group of young Nordic skiers. "It's all about the winter sports."
After the sprint, hundreds of children became the center of attention as the street events began.
More than 400 children filled the street for more than two hours as they were pulled by horses in skijoring, tied to their friends and siblings for the three-legged race, and sipped hot chocolate while cheering on their friends.
Billie Audia and her son Gianluca, 7, have been traveling to Steamboat from Hanover, N.H., for the past four years to attend Winter Carnival.
"We love the cowboy element, the great skiing and just the community," Audia said.
Their very first year, a 4-year-old Gianluca had the chance to ski with Billy Kidd and participate in the Soda Pop Slalom.
This year, he graduated to skijoring. He said he went "pretty fast" on his first-ever attempt at being pulled down Lincoln Avenue by a galloping horse.
"I wasn't too terrified," he said. "I was just excited."
Local 8-year-old Macy Reisman wasn't as lucky.
"I got the fastest horse — on accident," she said. "I fell, but then I got back up again."
Other events included the donkey jump, in which children are pulled by horses and then off a small jump, and the adult shovel races. Each provided entertaining spills and elicited loud cheers from the hundreds of onlookers who packed the sidewalks of Lincoln Avenue.
Also Saturday, the qualifying round of the Pro Alpine Ski Flying competition was held on the jumps at Howelsen Hill. The finals of the Gelandesprung event — in which ski jumpers wear Alpine skis and boots instead of traditional ski jumping gear — is at 1 p.m. Sunday at Howelsen Hill.
Saturday's Winter Carnival festivities concluded with the Night Extravaganza featuring a fireworks display and the Lighted Man.
The street events continue Sunday from 9 to 11 a.m. in downtown Steamboat Springs. The Diamond Hitch Parade featuring the Steamboat Springs High School ski band is at 11:30 a.m. on Lincoln Avenue.
Winter Carnival street events
International Muzzle Loading Biathlon
Winter Carnival Night Extravaganza fireworks display