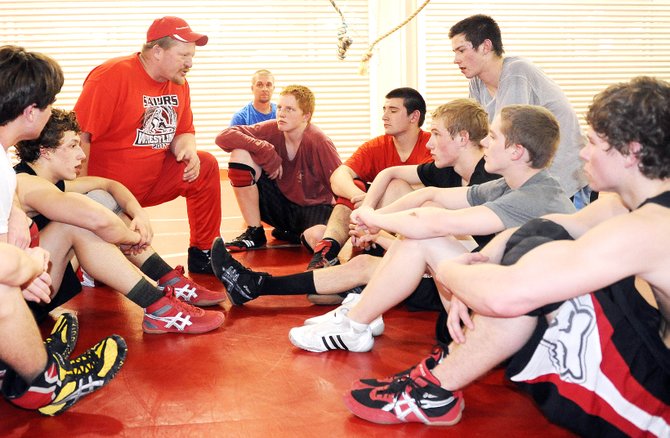 Regionals loom for Routt County wrestlers
Wednesday, February 8, 2012
Newfound respect
2011-12 Sailors wrestling schedule
2011-12 Tigers wrestling schedule
2011-12 Rams wrestling schedule
Steamboat Springs — Steamboat Springs High School wrestling coach Shane Yeager called the chaos in the room to a halt with a shrill whistle and summoned his Sailors to the center of the practice room mat with a command. In surviving Wednesday's workouts, he explained, they'd made it through the season's final grueling practice.
He didn't need to continue, though he did, reiterating what was on every wrestler's mind in the room, the county and even the state.
The year's work had only just begun.
The Steamboat Springs, Hayden and Soroco wrestling teams travel Friday for the first of their two-day regional wrestling tournaments: the Sailors to Eagle Valley and the Tigers and Rams to Grand Junction. The meets serve first as a qualifier, sending the top four finishers in each class to the state tournament, but more generally as a measuring stick for a season. On Wednesday, wrestlers from across the county were dealing with the pressure, preparing for the meet and hoping, when the time came, they'd measure up.
"It's been a long week. The waiting is hard for me," Steamboat junior Casey Williams said. "I've been thinking about every kid I'll see, thinking about every match there and thinking about past years. It's just a lot of thinking.
"I just want to get out and do it."
Williams knows plenty about the pressure the regional meet can exert. Two years ago, he was a no-name freshman from a nearly extinct mountain wrestling program and, competing with reckless abandon, he shocked many and made the state tournament.
Last year, ranked as the third seed in his bracket, he was considered a lock to return to state in Denver, a sure thing all the way up until he didn't make it.
Now, Williams said he's at his best: a high school junior capable of the athleticism he displayed as a freshman and one capable of harnessing the lessons he learned as a sophomore — a young man in full, aware both of the glory a trip to state can bring and how brutally difficult it can be to get there.
"I was seeded third. You have to be in the top four to go to state, so I thought I was in," Williams said. "This year is definitely different. I feel pressure this year, but I feel better. I know it's hard to make it, that you have to show up and you have to wrestle hard."
Last season's disappointment taught Yeager a lesson, as well. He opted not to schedule his team for a meet last weekend, hoping to help his squad hit its peak at the right time and to enter regionals rested and healthy.
He said he's well aware of the lasting impact his program could realize if several wrestlers break through to the state tournament. But as confident as he is in his athletes' abilities, he's not taking anything for granted.
"We don't have rooms reserved in Denver or anything," Yeager said. "Our regional is really tough, and we're going in as the underdogs, as the guys no one knows about."
The pressure's there for Hayden and Soroco wrestlers, too. Both schools return multiple athletes who've made the big tournament, but that doesn't make this weekend any easier.
"The kids seemed excited, focused, and they're ready to go down and go to work," Hayden coach Chad Jones said. "If the kids go out and wrestle like they're capable of, they'll be all right."
To reach Joel Reichenberger, call 970-871-4253 or email jreichenberger@SteamboatToday.com