Photo Gallery
House fire at 1912 Woodland Ave.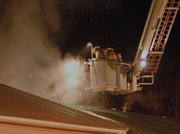 Craig — Preliminary reports suggest Tuesday night's fire in Craig that killed resident Ursula Hunter, 67, was accidental.
A definitive cause has not been determined.
Craig Police Department Sgt. John Forgay said Wednesday that the fire department views the fire as accidental and that fire officials have theories about what sparked the blaze.
"There was a lot of supplemental oxygen in the home, but we couldn't find any indication that anything had blown up," Forgay said.
Instead, Forgay said police and fire officials are focused on the southeast bedroom as the origin of the fire.
"We are more concerned with a small heater in the bedroom that had most of the damage," Forgay said. "We and the fire department are looking at where the most intense heat from the fire was, and it would be more relevant that the fire started there."
Investigators said the victim was not feeling well, so a space heater was being used in the bedroom for warmth.
Family members told investigators the bedroom had long curtains.
"There was nothing left of those except a curtain rod," Forgay said. "It's a strong possibility, and we feel fairly secure, that is the most logical place for the fire's origin."
Craig Fire/Rescue Battalion Chief Dennis Jones said Wednesday that the extent of the damage makes it nearly impossible to confirm the cause.
Jones said the fire department no longer is investigating the fire.
Ursula Hunter's companion, Patrick Hunter, 75, was pulled from the home by Craig Police Department Sgt. Corey Wagner and officers Lance Eldridge and Mike Edwards, who were first on the scene.
Patrick Hunter was transported Tuesday night to The Memorial Hospital in Craig for treatment.
The Memorial Hospital spokeswoman Jennifer Riley said Wednesday that Patrick Hunter had been transferred to a hospital in Denver. His condition was not available.