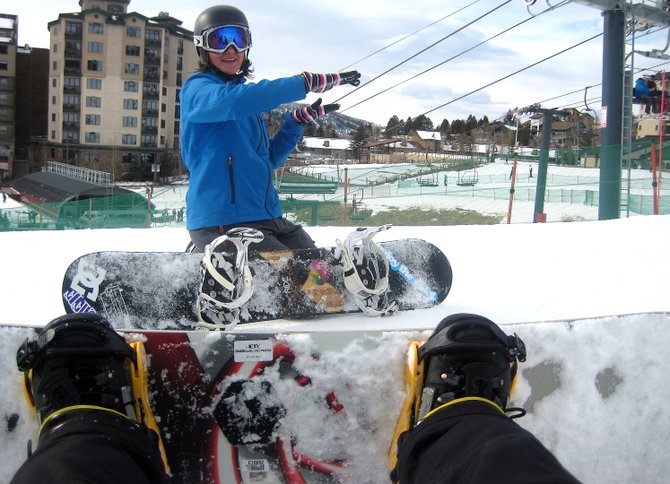 Learning how to snowboard a step-by-step process
Saturday, February 4, 2012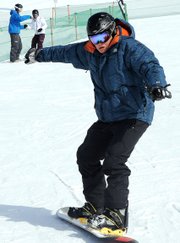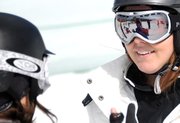 Steamboat Springs — I woke up Friday morning with a snowboarding joke itching to get off my tongue.
"Getting ready for my first snowboarding lesson," I informed my Facebook faithful. "I'm afraid I already screwed it up. ... I'm sorry. Showering is a part of my morning routine. I can't just give up my morning routine because I'm going snowboarding."
Can I get rimshot?
Eight hours later, I stood at the bottom of Mount Werner, calves aching, wrists screaming and bruises developing, talking with my instructor, Tiana Egloff, about what brought her to Steamboat, what motivates her to teach and what the biggest challenges are in taking a never-ever snowboarder from the bunny slope to the chairlift.
I didn't tell her my joke. Although I was smiling wide and thrilled with the day, the sport and my stereotypes didn't seem nearly as funny.
Shifting sideways
I was the star of the first ski lesson I ever took. The Breckenridge March Class of 1991-ish cowered in the face of my advanced skate-stopping ability, and by lunch I'd decided I was done with ski school forever and ready to roll intermediate runs with my dad.
Although I never lived up to the promise of that fast start — now forever limited by a few deeply ingrained bad habits — I've never stopped skiing.
It always seemed foolish to sacrifice a Colorado vacation day back when I used to ski three or four days every other year. When I moved to Steamboat four years ago, I wanted to get out and explore my new home mountain, not "waste" a day or two in lessons.
If there ever has been a winter to use to expand one's disciplines, this is it, and Friday, seemingly a month since the last snowstorm, was as good a day as any.
Baby steps
My class started on the flat section of snow near Slopeside Grill putting together the first pieces of what I soon realized was one large puzzle. We learned to strap in, to push with one foot and the first tiny bit of shifting weight to turn.
Upon strapping both feet in for the first time, Egloff asked us to jump and do a 180.
Despite the fact I did two 180s — thus one 360, watch out world! — it quickly became apparent I wasn't the only one who'd been a star in a ski school class 20 years ago.
My group was split between a couple of East Coast guys — Eric Devitt, of Virginia Beach, Va., and Nick Milby, of Boca Raton, Fla. — and two Texas women, Angela Seba and Jeanie Engler, of San Antonio, who were learning how to snowboard after Seba had a bad experience with ski lessons.
As the class moved to a bunny slope under the Christie Peak Express chairlift, Devitt and Milby took to the increasingly difficult lessons quickly. We all knocked out the falling leaf technique, sliding down the slope on our heel edge, and most of us struggled when we were forced to turn around and do the same thing backward, learning to ride our toe edge.
Group therapy
I had forgotten how fun it can be to learn to do something like snowboard, that sense of exhilaration that rushes through the body when an instructor's advice works just as promised or when you're first able to do what others make look so easy.
"Look up the mountain," were Egloff's words as I worked on sliding down on my toes. During the first two circuits, I clung to her hands in a way that, frankly, was a bit embarrassing.
"Don't worry," she offered as I struggled to keep my board in position and discarded all of her advice, casting my eyes every which way but up. "I'll keep an eye on your board. You keep your eyes up the mountain."
That rang through my head on my third slide down, this one mostly without her aid. It rang through my head as we progressed from falling leaves to the most basic of actual turns and even as we began to try to link turns together — to actually snowboard — in the day's waning moments.
There's a communal aspect of a lesson I didn't realize I'd enjoy. We traded compliments on our turns. Once, as Egloff was helping me slide around, I lost touch and rocketed (my term, not nature's) down the slope.
"You got it," she shouted.
"No, I really don't," I yelled back, suddenly more concerned with a manageable fall than whatever technique we'd been working on.
Three fellow beginners riding the magic carpet interjected, "Really, you do have it!" And suddenly, I did. Egloff's advice echoed through my head, I looked up and stopped on my toe edge. Easy, or something.
Worth a laugh
I've always been a straightforward kind of adventurer. My favorite sport is slalom water skiing. I've tinkered with wakeboarding, but sideways always has felt so foreign to me, and I've never gotten into it.
Snowboarding proved a lot more natural than I had expected. It's not as easy as a good boarder can make it look while zipping down a steep run, but it's not as hard as some might imagine.
What struck me as powerfully as anything was that a day in a lesson isn't a waste of a day. It was fun.
So am I a rider now, a convert to the Dark Side? I wouldn't go that far. First of all, my clothes aren't baggy enough. (Zing!)
Seriously, though, I showed up at Steamboat Ski Area on Friday morning expecting a fun day of learning and left five hours later exhausted, fulfilled and a lot happier than I had expected.
I haven't ordered a board yet, but I left determined about two things: I plan to take a second lesson, thus legitimately adding snowboarding to my resume, and I'll cool it on the jokes.
To reach Joel Reichenberger, call 970-871-4253 or email jreichenberger@SteamboatToday.com