Laurie Hallenbeck: Around the County for Feb. 5
Saturday, February 4, 2012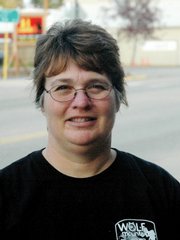 Hayden
Milestones
Happy birthday wishes to Brandon Shipman.
Happenings
Colorado Northwestern Community College is offering body sculpting workout classes at the Haven on Mondays and Wednesdays starting Feb. 6 and running through April 2. The class is from 5:30 to 6:30 p.m.
All Natural will host an aromatherapy class from 6 to 8 p.m. Wednesday. The store also will host a Norwex Microfiber Demonstration at 6 p.m. Tuesday. Call Karen or Glenda at 970-276-2199.
A bilingual sign language class for kids is from 10:30 to 11:45 a.m. Feb. 13 and 18 at Hayden Public Library. Adults also are welcome. Call Lindsay at 970-276-7291.
A draft horse competition is Feb. 18 during the Wyman Museum's Winter Festival. If you have a team, call the museum at 970-824-0382. The competition is open to the public, with events starting at 10 a.m. There will be an evening snowmobile show.
Totally Kids will hold its annual dinner and auction fundraiser Feb. 12 at The Haven. For more information or tickets, call 970-846-9083.
Sports
The Hayden Tigers high school boys and girls basketball teams will travel to Soroco to play the Rams on Friday, with the games starting at 4 p.m. They will then play the West Grand Mustangs at home on Saturday, with the games starting at 1 p.m. On Feb. 13, they will play at home against the Steamboat Sailors, with games starting at 4 p.m.
The high school wrestlers will compete at a regional tournament Friday and Saturday.
South Routt
Happenings
St. Martin of Tours Catholic Church will host a community dinner at 5 p.m. Thursday. A great chance to eat a good meal while visiting with friends and neighbors.
Sports
The Soroco Rams middle school girls basketball team will play in a tournament Saturday. The seventh-graders will play in East Grand and the eighth-graders will play in North Park.
The Rams high school girls and boys basketball teams will playing at home against Vail Christian on Tuesday. The games start at 4:30 p.m. They will then play the Hayden Tigers at home Friday, with games starting at 4 p.m., and against the Meeker Cowboys on Saturday, with games starting at 1 p.m.
The wrestlers will be at regionals Friday and Saturday in Palisade.
On this day in history
■ 1934: Baseball player Hank Aaron was born.
■ 1861: Samuel Goodale patented the moving picture peep show machine.
■ 1953: The Walt Disney movie "Peter Pan" opened in New York City.
■ 1971: Apollo 14 astronauts landed on the moon.