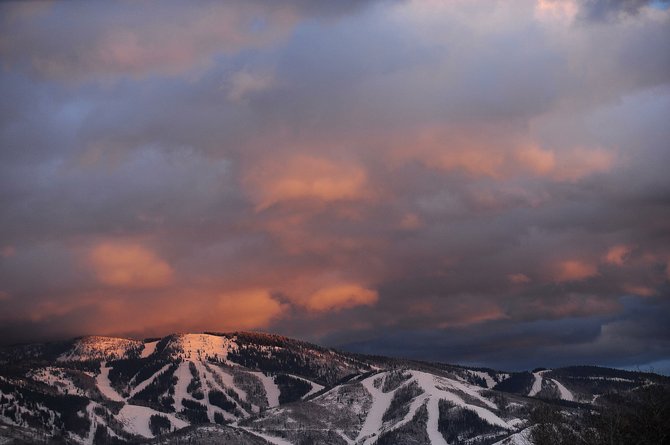 Intrawest CEO says company has diverse revenue streams
Steamboat Homefinder
Visit SteamboatHomefinder.com for more real estate news.
Steamboat Springs — There's more to Intrawest than many people know, according to the CEO of the parent company of Steamboat Ski Area.
Who knew that Intrawest owns a multimillion-dollar helicopter repair business? Or that it controls a majority share of the iconic brand in international luxury travel, Abercrombie & Kent? Or that it manages 600 new guest rooms on Kaanapali Beach in Maui?
Intrawest CEO Bill Jensen told an audience at The Steamboat Grand this week that his company is fiscally strong — its ratio of revenues to operating expenses is robust, he said, and he expects that measurement of the company's strength to continue to improve during the next few years.
Jensen emphasized that Intrawest made a sound strategic move in 2009 when the company acted decisively to clear out a large inventory of new condominiums that were either just completed or due to be completed as the resort real estate market began to struggle along with the national economy.
"In January 2009, we had 1,100 unsold new townhomes and condos valued at $600 million," Jensen said. "Today, we do not own one of those units. We sold them all in 2009 and in the first half of 2010. We reduced pricing by 20 to 30 percent. So many people told us we were nuts because the market was going to come back."
This week, Jensen clearly was pleased to be able to say his company was not saddled with vacation home inventory.
"All we have left is four empty ski-in, ski-out building lots at Stratton Mountain (in Vermont)," he said.
Much has changed at Intrawest since it moved to the 18th Street Atrium in lower downtown Denver from Vancouver, British Columbia, in 2011.
Intrawest still employs 3,500 year-round workers and 13,000 seasonal employees. But the headquarters staff has shrunk from 750 in Vancouver in 2008 to about 100 in Denver.
Intrawest took the flagship Whistler Blackcomb Ski Resort public in 2010 to pay down debt, and it retains a minority ownership.
Today, the company's core resorts include Blue Mountain, Ontario; Snowshoe, W.V.; Stratton, Vt.; Tremblant, Quebec, and Winter Park (which it manages on behalf of the city and county of Denver) in addition to Steamboat. Intrawest controls 18 percent of Whistler Blackcomb and owns 15 percent of Mammoth Mountain, Calif.
Blue Mountain, little known in the U.S., is close to Toronto, does 750,000 skier visits annually and has strong summer business, Jensen said.
Operating revenues generated by its core resorts — not to be confused with profits — were $450 million last year.
The company owns the largest helicopter skiing company in the world, CMH Heli-Skiing, which requires Jensen to fly out to Canada and test the product once or twice a year, he observed wryly.
However, in summer, the helicopters that fly powder hounds in winter go to work for another Intrawest company, Alpine Helicopters, which dispatches the choppers to fight forest fires and do work for utility companies, among other missions. A third company, Alpine Aerotech, does a very lucrative business repairing helicopters, Jensen said.
"Helicopters, if you maintain them, do not depreciate," Jensen said. "And they very rarely crash, but they sometimes experience hard landings."
Those hard landings send a large number of helicopters annually for repairs that can reach $1 million or more.
Honua Kai Resort in Maui, managed by Intrawest, enjoys 80 percent occupancy, Jensen said. A studio condo there currently is listed for $640,000. Playground Destination Properties is the listing real estate entity at Honua Kai.
Club Intrawest, the boutique timeshare company left over from the old Intrawest days, also is looking to expand into Hawaii. It has high guest satisfaction ratings and is profitable, Jensen said.
Intrawest's vacation condo rental business is greater than Steamboat residents might guess, even with the high occupancy rates enjoyed by The Steamboat Grand.
Many of its resorts were built under Intrawest's vacation village model, which has given the company more integration into the different revenue streams created by a winter/summer resort. Steamboat was not developed through the original Intrawest model, Jensen observed.
"We do 700,000 lodging room nights in our core resorts," Jensen said.
At the Denver headquarters, Intrawest staff engages in financial planning and builds new digital marketing tools that are changing the way companies do business. The intent of the emphasis on marketing strategies is for Intrawest to build synergies for its diverse portfolio of companies, Jensen said.
"Marketing has changed in every business," he said. "It's much more technical and electronic and will only get more so. We've built technical Web-based reservations, database, point-of-sale and research systems allowing efficiencies over multiple businesses. No one business could afford all of these platforms."
Jensen told his local audience that Steamboat Ski Area has a very high net promoter score — it's a measure of how likely existing customers are to recommend a company to a friend — and that Intrawest's goal is to continue building on those positive responses from guests.
"We're very brand-focused," Jensen said. "Steamboat's is among the most powerful in the ski industry. But Snowshoe and Stratton are also very strong brands within their regions."
To reach Tom Ross, call 970-871-4205 or email tross@SteamboatToday.com