Lufkin memorial service
Don Lufkin, 89, a lifelong Steamboat Springs resident, died Dec. 8 at the Doak Walker Care Center. A celebration of his life is at 11 a.m. Thursday at the United Methodist Church of Steamboat Springs. A graveside service will follow at Steamboat Springs Cemetery before a reception at the church. In lieu of flowers, memorial donations can be made to the Lufkin LIFT-UP Center in care of Yampa Valley Funeral Home, P.O. Box 776090, Steamboat Springs, CO 80477. For more information, call 970-879-1494.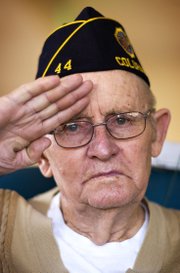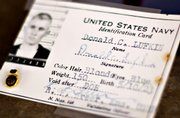 Steamboat Springs — Friends and family say Routt County lost an icon Saturday with the passing of Donald Lufkin, a Steamboat Springs rancher who shared his financial success in real estate with a variety of worthy causes throughout the years.
Lufkin was 89 when he died from natural causes at the Doak Walker Care Center, where he had lived for the past 6 1/2 years.
On Tuesday, four of Lufkin's relatives and family friend Jayne Hill gathered at the Tread of Pioneers Museum in a room bearing his name — the Lufkin Library — to share stories, listen to recorded interviews and research old newspaper articles in preparation for Lufkin's celebration of life. The service is at 11 a.m Thursday at the United Methodist Church of Steamboat Springs.
Lufkin was raised at a ranch established in 1905 near the Mesa Schoolhouse along U.S. Highway 40 near the base of Rabbit Ears Pass. Lufkin attended the one-room school and bragged about being valedictorian of the eighth-grade class, where he was the only student. He graduated from Steamboat Springs High School with 26 classmates in 1941.
Family members on Tuesday described Lufkin as a very humble and modest man with a lot of integrity.
"He really believed in the Old West handshake," Hill said.
Lufkin's daughter Donna Vineyard said her father wanted to give back to community groups because he could.
"Pay it forward," Vineyard said. "That was his motto. He didn't expect anything in return."
There is one story that has been told before, but it is worth sharing again because it is particularly good at illustrating the generosity Lufkin learned from his father. After being honored as the Individual Philanthropist of the Year by the Yampa Valley Community Foundation in 2000, he told the story about his father, H.C. Lufkin, and a young man named Norman Mott.

Lufkin said in 2000 that during the Great Depression, drifters often would pass through Routt County on U.S. 40. Mott found his way to the Lufkin ranch, where Lufkin's father let him work for a meal. Mott was an orphan without any family and eventually was allowed to stay at the ranch for the summer.
"That was the probably the best thing that ever happened to him," Lufkin recalled.
After a couple of summers working on the ranch, Mott did not come back, and the Lufkin family lost contact.
A few years later, Lufkin found himself desperately ill on "the worst ship that ever set sail on the seas" on his way to the Philippines during World War II.
"I felt a hand on my back and someone say, 'Is that Don Lufkin?' I said, 'Yeah, what's left of me.' That man was Norman Mott," Lufkin said.
Like Lufkin's family once had done for him, Mott took in Lufkin and offered him his stateroom instead of the cramped bunks where Lufkin was assigned to sleep. For three weeks, Mott helped Lufkin get better with well-prepared meals and clean water to drink.
"Since then, I've thought to myself well over a hundred times, if my family hadn't taken him in, that really would've been a miserable, miserable time on that ship," Lufkin said.
From then on, Lufkin aimed to live the rest of his life with that pay-it-forward mentality, or as he described it: "It all comes back."
In being recognized for his philanthropic efforts, Lufkin hoped that he would inspire others.
"I think he did with his generation," Lufkin's daughter Vikki Franz said.
The family on Tuesday found records of Lufkin being involved with more than a dozen nonprofits. Nephew Doug Scott said his financial gifts largely focused on organizations that helped children, seniors and health care organizations. In addition to the museum library, a room at Yampa Valley Medical Center was named after Lufkin. In 2006, Lufkin attended a groundbreaking ceremony for what would become the Lufkin LIFT-UP Center. Lufkin was the agency's largest individual donor.
Lufkin eventually decided to give financially to his favorite organizations through the Yampa Valley Community Foundation.
"From now on, I'm going to give the Yampa Valley Community Foundation one check," he said in 2000. "I've been writing individual ones up till now, and I'm always afraid I'm going to forget someone."
The family members said they don't think Lufkin ever turned down a donation request. Hill said one of those requests was from Steamboat Ski Area pioneer John Fetcher, who also was a booster for the Steamboat Springs Winter Sports Club and wanted $100,000 to help build the Alpine slide at Howelsen Hill.
"He said John Fetcher wouldn't let him say no," Hill said.
For his community involvement, Lufkin also was given the Leckenby Pioneer Award in 1999.
In addition to his philanthropic efforts, Lufkin also was proud of his military service.
According to Steamboat Today archives, Lufkin joined the Navy with a friend after a night at a local bar, when they decided it would be a lot easier to join up than to keep working for their fathers. Lufkin later decided that boot camp was easier than ranching. He joked that the Navy training he received in diesel engines was a waste of time because he already had learned everything while working at the dairy and cattle operation. During World War II, Lufkin served 2 1/2 years in the Pacific, where he drove PT boats. On his boat, he claimed to be the champion at checkers, a game he continued to play throughout his years at the Doak Walker.
His boat was on the way to Japan for the pending invasion when the bombs were dropped on Hiroshima and Nagasaki, effectively ending the war.
"I was mighty proud to be in the Navy," Lufkin said in 2007.
To reach Matt Stensland, call 970-871-4247 or email mstensland@SteamboatToday.com