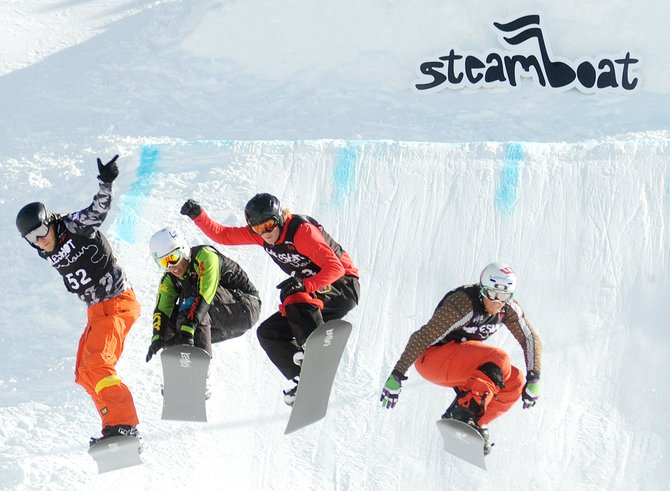 X Games ouster of 2 events a blow to Steamboat racers
X Games cancels snowboard cross, ski cross events
Steamboat Springs — Steamboat Springs snowboarder Mick Dierdorff has big plans for the coming winter.
He's headed to New Zealand soon for a snowboard cross camp, and he then will return to Steamboat Springs and focus on what he expects to be a great winter season.
"My goal is to have a World Cup spot by the end of the year, then to try to make the Olympic team the following year," he said.
He was none too pleased last week to find out there was one major event he didn't need to aspire to compete in. Dierdorff competed in Snowboarder X in the Winter X Games in 2010, but he won't get that chance again as officials announced the X Games is dropping its snowboard cross and ski cross — known as Snowboard X and Skier X in official X Games lingo — events from this winter's program.
The events had been featured in nearly every previous version of the games. Snowboard cross debuted with the X Games in 1997, and ski cross came along the following year.
"It's just really frustrating," Dierdorff said. "In the years without Olympics, it's always been the biggest event and it's just not going to be there this year, and that's really weird. I don't like the way it turned out."
Dierdorff said his taste of the X Games is one of the highlights of his career. He transitioned a great season the winter before into an X Games invitation, and there he qualified high. He got tangled with a competitor and finished 16th, but he left the Aspen course happy for the opportunity and eager to return someday.
"It was definitely the most amazing event I've been a part of," Dierdorff said. "You feel like a rock star, being on the big screen, having a huge crowd watching and being with all the athletes from the other events.
"It was amazing to be a part of, and it really makes you push harder to have that as a goal for yourself. This is a very large bummer."
Steamboat Springs Winter Sports Club snowboard program director Jon Casson, who also directs the club's snowboard cross program, said the X Games decision was tough to swallow. Casson said his squad had the potential to earn several spots in the invitation-only event this winter.
"We were really looking forward to it," he said. "We tentatively put it on our schedule as we were planning out our season."
Ski cross and snowboard cross send racers in heats where only the most basic rule of racing applies: First one to the bottom wins. Courses are filled with big banked turns and giant jumps, and the shoulder-to-shoulder racing frequently results in NASCAR-like pileups, especially at the X Games, where the courses almost always were bigger and burlier.
The inclusion in the X Games spawned stars in the sports such as Lindsey Jacobellis, who won snowboard cross gold seven times, and Nate Holland, who won six. Snowboard cross made it to the Olympics in 2006, and ski cross followed in 2010.
Casson said the news was a reminder of one key fact about the ESPN-invented and -controlled X Games: They're a little more entertainment than sports.
"They've got a lot of marketing research at their disposal, and maybe it wasn't appealing to the demographic they were going for with the X Games," he said. "I'm still at a loss to understand the reasoning. There's crashes, exciting high-speed stuff and a lot of people catching air. I don't get it."
X Games is adding events to the docket. Speed and Style and SnoCross, both snowmobiling events, will return after being left off the 2012 schedule.
"These decisions are never easy, obviously," said Tim Reed, senior director of content strategy for ESPN X Games in an ESPN.com article. "We understand the ramifications these things bring. We come up with what we believe are the best events to showcase to our fans on-site and obviously the networks, too.
"There wasn't one single factor that led to this decision. It just comes down to filling the schedule with how much we believe we need to make the event enjoyable to the fans and deliver on what we need from a product standpoint."
To reach Joel Reichenberger, call 970-871-4253 or email jreichenberger@SteamboatToday.com