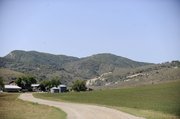 Steamboat Springs — The Routt County Sheriff's Office was investigating a plane crash Saturday and the death of the plane's only occupant.
The crash was discovered at about noon by a sheep herder about three miles north of the Camilletti Ranch house, which is at the end of Routt County Road 48 near Milner.
Undersheriff Ray Birch wrote in an email that the crashed plane is a single engine Piper and that it was being flown by a male.
Routt County Coroner Rob Ryg wants to make sure all of the family members are notified before the man is identified.
Birch added that the man was not from the area.
Birch said it is not known when the plane crashed. He said that the Federal Aviation Administration and the National Transportation Safety Board has been notified and that NTSB investigators were expected to arrive at the crash Saturday evening.
To reach Matt Stensland, call 970-871-4247 or email mstensland@SteamboatToday.com