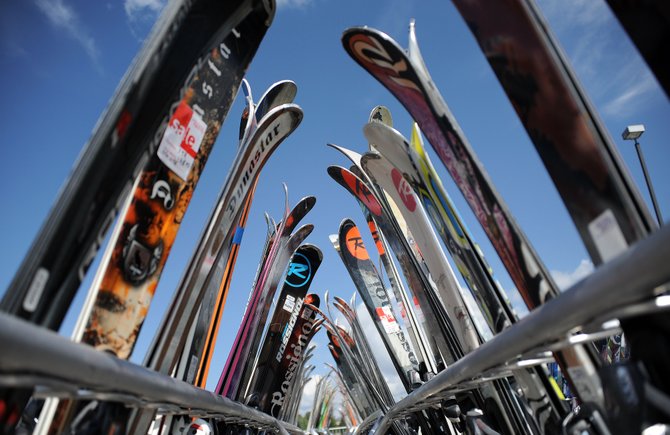 Bargain season is here: Find great deals on ski and snowboard gear
Updated August 27, 2012 at 3:45 p.m.
Demo versus new
• Demo skis (rental skis used just one year) are cheaper.
• Year-old but unused equipment also can be a great deal, with some marked 50 percent off. Many models are the same on the inside as the 2012-13 versions.
• Demos usually come with a binding, helping to save some money.
• Demo skis do lose a tiny amount of zip and pop every time they're skied.
What to look for in demo skis
• Don't sweat a little damage to the top of the ski, but if there's a lot of top sheet damage, it could be a sign of bigger problems.
• Check for major damage that will need to be repaired, including distortions to the edges and large gouges on the base.
Steamboat Springs — One Stop Ski Shop's fleet of electric bicycles still sits out on the sidewalk with a hopeful "Rent me!" sign, and John Kole's days still are dominated by checking the Yampa River water levels and, when the numbers are right, renting and selling tubes to sun-seeking tourists.
A slow but steady stream of customers and an ever-growing collection of unopened cardboard boxes in the back of his shop are proof that times are a changin'.
It's true at Kole's One Stop Ski Shop and at all the ski and snowboard shops across Steamboat Springs: Winter 2012-13 is in sight, and so is the new gear that will line store shelves and set Steamboat mouths to watering.
Also true of those shops: Much of the 2011-12 gear still is lingering, and it's that fact that can lead to some epic deals. Whether it's by prowling the shops downtown and near Mount Werner or by hitting Christy Sports' weeklong tent sale in Meadows Parking Lot, now's the time for forward-thinking, budget conscience skiers and riders.
Demo deals aplenty
Seeing as all of the new gear still is in boxes, anyone looking to score a summer deal on skis or a snowboard will have two options at this point.
Buyers can opt for last season's unused equipment or demo gear, basically skis and snowboards that were new a year ago but were rented through the pat winter.
Both come with advantages and disadvantages.
Those seeking the ultimate bargain probably want to look to demoed skis. They typically include a binding and come even cheaper than the discounted unused items.
All the local shops said they're somewhat selective about what used equipment they offer for sale. Anything with real damage goes elsewhere, sometimes to a super-duper clearance rack, other times to the trash. Still, there are things that buyers should keep an eye out for.
"Make sure it's not too beat up," said Harry Martin at Steamboat Ski & Bike Kare.
His shop still is loaded with bicycles but quietly has been taking deliveries on new winter equipment. It's selling old winter demo skis for $325 to $425.
Martin, like the other shops, said his crew repairs and tunes all last year's demo skis before they go back up for sale.
"Look for base repairs or edge repairs," he said. "If you see any big repairs to the base of the ski or big scrapes that are still there, I'd stay away from it."
The easiest thing to check for damage is the top sheet, the design on the top of the ski. In many ways, damage there is only cosmetic, but enough chips and scratches can be indicative of further damage.
"Look for any deformation in the edges," Kole at One Stop advised. "As for the top, you don't ski on the top sheet, but if something's going on in the inside, it might be beat up on the outside, too."
Kole said he sends most of his 1-year-old demos to his rental fleet, though he eventually does sell used skis that have gone through two or more years of life.
Vince Gigliotti, a longtime ski expert at Ski Haus, said plenty can be gleaned from even a quick inspection. He said that the store rents plenty of skis for the season — by all accounts the cheapest way to get into equipment for next year — and that they all come back a little different.
Some barely seemed used. Others, especially after a (literally) rocky season like this past winter, may have a little more damage than usual.
He said that shops clean up most of that little stuff, however, and that it won't affect a user's on-snow experience.
"If it's a little nick or gouge, that means nothing," he said.
The demo vs. new debate often boils down to personal preference.
"Is there a great deal of chance in it? Not really," Gigliotti said. "We're in the people business. We want people to be happy when they've shopped here. Believe me, if they like how you help them, they'll come back, and that's what we're really all about."
Old skis can be sweet
The main disadvantage to buying unused season-old skis is they cost more than demos, and they typically don't include the bindings.
There are plenty of advantages, including the fact there is often very little difference between a season-old ski and this year's version of the same model.
"A lot of them are just changed cosmetically," Kole said, waving at one last remaining Armada TST, one of his hottest-selling skis a year ago.
The new versions of the ski come with a suggested retail price of $850. Last year's model, with a different design on top but the exact same guts on the inside, costs $425. Although that model basically is extinct from his shop, he has stacks of others that offer the same type of deal.
Kole said anyone looking for a particular model often won't be able to tell the difference when using the equipment.
That can't be said for comparing an unused season-old ski to a demo, however.
Gigliotti said even a demo in near-perfect condition loses the smallest amount of zip.
"Every day it's skied, a ski loses a little bit of its pop," he said. "Not that anyone can notice that, but when you give them a brand-new ski off the wall, everything the same, they would find their 1-year-old ski had lost a little bit of its pop and rebound."
Is that worth a few hundred bucks? That's a personal question.
Now is the time
It's not just a good season to buy skis. Everything's on sale.
Kole said he's sold a dozen pairs of ski boots in the past week. His advice: Time invested in a good fitting is never time wasted.
One glance around Christy Sports' tent sale makes it obvious that now is a good time to stock up on anything and everything.
That event kicks into its 32nd year starting bright and early Friday. It has sister sales in Dillon and Denver.
"Pretty much everything we have on clearance is out here," Christy Sports' Chuck O'Connell said.
He said he's seen the annual event go from one small tent to several massive ones, everything from gloves to goggles, jackets to pants, skis to snowboards (new and used) tucked under hundreds of square feet of white canvas.
O'Connell's advice is simple: Don't dally.
"We have back stock," he said, "but anything we only have one of, it's out here now."
To reach Joel Reichenberger, call 970-871-4253 or email jreichenberger@SteamboatToday.com