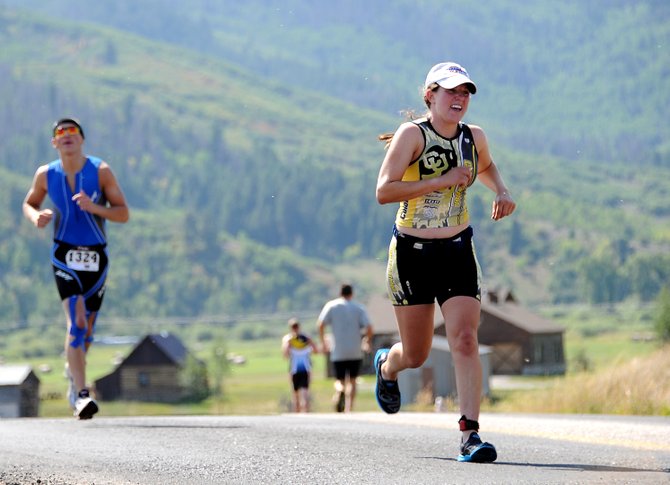 Racers swarm to Steamboat Triathlon
Photo Gallery
2012 Steamboat Triathlon
Steamboat Springs — Little more than a year ago, John Holland was a triathlon rookie, an avid cyclist and, thanks to years on his high school swim team, a capable swimmer. But he was entirely unaccustomed to things such as transition zones and entirely uncomfortable running the distances the sport demands for its final leg.
On Sunday, Holland was among the hundreds of swimmers, riders and runners who tore up, down and around Lake Catamount. Nearly 400 finished the annual Steamboat Triathlon, including Holland, with the Steamboat race marking the longest race of his short career.
It was a great day by the lake, he said.
"I felt good," he said. "I had a great swim, a great bike ride, and my run, I'm still working on that."
The triathlon returned for the eighth time Sunday and for the second time as an Olympic distance. That meant about a mile swimming through Lake Catamount, about another 25 from Catamount, into Steamboat Springs and back on a bike and a little more than six on foot.
The participants varied a great deal. Lakewood triathlete Cody Waite made it a clean sweep of Steamboat triathlons this summer, adding Sunday's Steamboat Triathlon crown to the Steamboat Sprint Triathlon he won last month. He finished in 1 hour, 55 minutes and 38 seconds. Nick Baldwin was second, in at 1:59:12, and Andrew Knutsen was third at 1:59:30.
Susan Langley was the first among the women, finishing in 2:12:14. Tess Amer was second in 2:13:52, and Ashley Niles was third in at 2:14:26.
Most racers with times like those finished hard and celebrated the achievement with little but a check of the stopwatch.
Racers who came later crossed with arms waving, thrilled to meet a goal. Those at the end, meanwhile, simply seemed glad for it to be done.
They came from across the state and even the country. Collegiate runners have helped fill the ranks since Without Limits took over both of the Steamboat-centered triathlons last year, and again there were plenty of college-age competitors, with seemingly as many finishers from Boulder as from Steamboat. Dozens more came from Utah, Wyoming, Texas and even New York.
"I always tell people Steamboat is the best race you've never heard of," Director Lance Panigutti said. "This is the most picturesque lake, and you have to do it once."
The race didn't approach its 600-athlete cap, but Panigutti said he's hoping that's only a matter of time. The top third of Sunday's field earned spots in next year's Olympic distance triathlon national championships. He speculated the 2012 version of that event, also held this weekend, and several other big events in the region may have kept attendance down.
"We hope to be more," he said. "We think we can."
John Holland finished 182th, third in his men's 65- to 69-year-old division. He was straight up fast in the water and on the bike, finishing with the 69th-best time swimming and the 75th-best time in the town-and-back cycling section. He said running always has been his least favorite, however, and there he had the 254th-best time.
"My run is a work in progress," he said.
The results did little to change his plans for the remainder of the summer. New to the sport just more than a year ago, Holland spent much of the past few months training with the Old Town Hot Springs Triathlon Club, and he's now planning to hit at least one and maybe two more races this summer, adding to his current career total of four.
That should come as little surprise to his fellow competitors because it was plenty evident Sunday: Triathlon is something that sweeps you up.
Consider Holland swept.
"I like the overall general conditioning that you get from all three sports," he said. "I joined the Triathlon Club this year, and that was just stellar. We've been working all spring, all summer. I'm trying to carry it a little bit longer."
Results
Lake Catamount
Aug. 19
WOMEN
Athena
(name, age, town, time)
Rachel Fisherkeller, 28, Golden, Colo., 2:49:47
Lisa Collard, 40, Tillson, N.Y., 3:02:37
Anne Lawrence, 27, Littleton, Colo., 3:04:18
Jamie Wilhite, 37, Salt Lake City, Utah, 3:09:36
18- to 19-year-olds
(name, age, town, time)
Cassady Daley, 19, Steamboat Springs, Colo., 2:35:25
20- to 24-year-olds
(name, age, town, time)
Tess Amer, 21, Boulder, Colo., 2:13:52
Kasia Rasker, 20, Boulder, Colo., 2:14:57
Meghan Wiebe, 20, Boulder, Colo., 2:32:52
Rachel Rodi, 21, Boulder, Colo., 2:48:56
Cate Mcpherson, 20, Centennial, Colo., 2:51:00
Kira Puntenney, 23, Loveland, Colo., 2:57:51
Carmen Schechinger, 23, Denver, Colo., 3:12:24
25- to 29-year-olds
(name, age, town, time)
Ashley Niles, 29, Boulder, Colo., 2:14:26
Sophie Eggert, 29, Denver, Colo., 2:27:36
Lauren Bordeman, 27, Boulder, Colo., 2:30:22
Cassi Wilbanks, 28, Denver, Colo., 2:31:02
Elizabeth West, 28, Fort Collins, Colo., 2:31:10
Allie Engstrom, 25, Fort Collins, Colo., 2:32:35
Alissa Pajer, 26, Boulder, Colo., 2:33:25
Christine Sednek, 25, Laramie, Wyo., 2:34:46
Julie Hoopes, 29, Denver, Colo., 2:35:39
Nicole Graham, 28, Colorado Springs, Colo., 2:40:14
Alisa Hatcher, 28, Denver, Colo., 2:43:10
Dyan Eppen, 27, Spearfish, S.D., 2:45:01
Samantha Sundahl, 27, Denver, Colo., 2:45:03
Melanie Irvine, 29, Denver, Colo., 2:47:55
Anna Turner, 25, Fort Collins, Colo., 2:48:01
Jess Hankins, 25, Eagle, Colo., 2:49:18
Abbey Graham, 27, Colorado Springs, Colo., 2:54:15
Paige Sherwood, 26, Fort Collins, Colo., 2:54:41
Katie Williams, 26, Littleton, Colo., 2:57:37
Jessie Violand, 27, Denver, Colo., 3:01:27
Kim Raschke, 29, Denver, Colo., 3:03:10
Maria Johll, 26, Wellington, Colo., 3:04:36
Jess White, 27, Boulder, Colo., 3:18:51
Elisabeth Myers, 29, Loveland, Colo., 3:28:22
Kristen Ruberg, 25, Denver, Colo., 3:32:09
Catherine Hegarty, 25, Steamboat Springs, Colo., 3:56:22
Kate Ramsay, 28, Denver, Colo., DNF
Amy Shortenhaus, 29, Boulder, Colo., DNF
30- to 34-year-olds
(name, age, town, time)
Susan Einberger, 31, Niwot, Colo., 2:20:42
Susie Jones, 31, Steamboat Springs, Colo., 2:21:43
Sarah Adams, 33, Greeley, Colo., 2:21:53
Sarah Schmidt, 34, Denver, Colo., 2:22:10
Maijaleena Zucker, 32, Highlands Ranch, Colo., 2:22:35
Jennifer Schneider, 33, Greeley, Colo., 2:33:07
Kimberly Yore, 33, Fort Collins, Colo., 2:34:45
Melissa Madsen, 34, Thornton, Colo., 2:34:54
Katie Hardie, 31, Denver, Colo., 2:35:35
Leah Lemke, 32, Denver, Colo., 2:37:24
Melissa Golemboski, 34, Denver, Colo., 2:41:40
Kathryn Krall, 33, Colorado Springs, Colo., 2:44:03
Jennifer Stucka, 32, Boulder, Colo., 2:46:24
Amy Campbell, 33, Denver, Colo., 2:49:44
Lindsey Graf, 31, Denver, Colo., 2:52:43
Sara Urbanek, 34, Louisville, Colo., 2:54:50
Annie Etling, 34, Denver, Colo., 2:57:28
Meggan Oliver, 33, Boulder, Colo., 3:00:50
Jessica Feinerman, 33, Steamboat Springs, Colo., 3:05:51
Laraine Martin, 30, Steamboat Springs, Colo., 3:06:26
Kate Anderson, 31, Denver, Colo., 3:06:57
Emily Dickerman, 31, Steamboat Springs, Colo., 3:10:08
Meghan Dukes, 33, Denver, Colo., 3:15:51
Kate Sparks, 34, Denver, Colo., 3:17:24
Laura Peters, 30, Denver, Colo., 3:17:27
Natalie Yount, 34, Ft. Collins, Colo., 3:18:35
Stephanie Einfeld, 33, Oak Creek, Colo., 3:19:51
Jackie Brown, 30, Steamboat Springs, Colo., 3:20:46
35- to 39-year-olds
(name, age, town, time)
Kathy Waite, 38, Lakewood, Colo., 2:21:45
Julie Mcfadden, 35, Steamboat Springs, Colo., 2:25:34
Jill Sorensen, 35, Dillon, Colo., 2:34:19
Mieke Meyer, 37, Spearfish, S.D., 2:39:29
Melissa Radulovich, 36, Littleton, Colo., 2:40:19
Sue Stutz, 35, Denver, Colo., 2:44:29
Jennifer Harrison, 37, Littleton, Colo., 2:48:36
Jessica Bianco, 35, Denver, Colo., 2:49:55
Alexandra Lessem, 37, Loveland, Colo., 2:56:09
Lucia Padilla, 35, Golden, Colo., 2:58:14
Jennifer Forbes, 35, Denver, Colo., 3:01:26
Shelley Coughlin, 39, Louisville, Colo., 3:02:44
Bea Lynch, 37, Denver, Colo., 3:13:41
Carrie Hull, 35, Littleton, Colo., 3:13:52
Cynthia C. Smith, 37, Littleton, Colo., 3:22:11
Erin Gleason, 35, Lakewood, Colo., 3:26:10
40- to 44-year-olds
(name, age, town, time)
Susan Langley, 42, Graceville, Ql, 2:12:14
Adrienne Stroock, 41, Steamboat Springs, Colo., 2:36:43
Kelly Phillips-Henry, 44, Colorado Springs, Colo., 2:36:51
Tanja Britton, 44, Colorado Springs, Colo., 2:38:24
Kym Rudnick, 41, Steamboat Springs, Colo., 2:38:37
Karen Fuchs, 44, Louisville, Colo., 2:41:24
Amy Brown, 42, Steamboat Springs, Colo., 2:42:47
Stacey Dawrant, 44, Colorado Springs, Colo., 2:46:55
Linda Cosgrove, 43, Centennial, Colo., 2:56:24
Kathy Elliott, 42, Steamboat Springs, Colo., 2:57:03
Suzanne Evanoff, 44, Lakewood, Colo., 2:59:21
Megan Mescher, 40, Boulder, Colo., 2:59:59
Lindsay Filsinger, 42, Denver, Colo., 3:00:00
Jennifer Plucinski, 40, Centennial, Colo., 3:05:38
Lisa Warner, 42, Steamboat Springs, Colo., 3:06:04
Cheryl Napier, 44, Broomfield, Colo., 3:07:26
Barbara Fried, 43, Denver, Colo., 3:11:08
Alison Kloepfer, 40, Broomfield, Colo., 3:15:12
Spice Jones, 41, Boulder, Colo., 3:20:26
Katie Denham, 43, Golden, Colo., 3:42:05
Jennifer Kerr, 42, Steamboat Springs, Colo., DNF
45- to 49-year-olds
(name, age, town, time)
Nanci Goldsmith, 46, Littleton, Colo., 2:26:04
Brenda Lynch, 46, Greeley, Colo., 2:36:33
Karin Kagan, 45, Steamboat Springs, Colo., 2:41:54
Maureen Obrien, 49, New Castle, Colo., 2:55:28
Nina Binder, 46, Wycnote, Pa., 3:07:23
Jeanne Coy, 45, Littleton, Colo., 3:12:36
Leah Polinger, 47, Breckenridge, Colo., DNF
50- to 54-year-olds
(name, age, town, time)
Chris Hall, 50, Cheyenne, Wyo., 2:37:16
Robyn Jankoski, 51, Steamboat Springs, Colo., 2:38:19
Gail Garey, 51, Steamboat Springs, Colo., 2:47:16
Gloria Cornyn, 51, Lakewood, Colo., 2:52:41
Patricia Flynn, 53, Pagosa Springs, Colo., 2:54:09
Suzanne Beers, 52, Colorado Springs, Colo., 2:57:34
Theresa Snyder, 53, Pagosa Springs, Colo., 3:01:42
Debra Reeves, 53, Denver, Colo., 3:11:57
Maria Parekh, 50, Steamboat Springs, Colo., 3:20:09
55- to 59-year-olds
(name, age, town, time)
Joy Rasmussen-Otte, 56, Steamboat Springs, Colo., 2:30:30
Julie Lyons, 55, Greenwood Village, Colo., 2:35:08
Cylinda Engelman, 56, Palmer Lake, Colo., 2:51:31
Robin Cort, 56, Longmont, Colo., DNF
60- to 64-year-olds
(name, age, town, time)
Sandi Wiebe, 62, Boulder, Colo., 2:44:12
70- to 74-year-olds
(name, age, town, time)
Eileen Croissant, 73, Greeley,Menlo., 3:46:20
MEN
Elite
(name, age, town, time)
Cody Waite, 33, Lakewood, Colo., 1:55:38
Wm. Scott Kury, 28, Aspen, Colo., 2:34:25
Clydes
(name, age, town, time)
David Cotton, 44, Broomfield, Colo., 2:32:58
Monty Coleman, 32, Santa Monica, Calif., 2:36:35
Michael Bennett, 35, Denver, Colo., 2:41:34
Taner Norton, 43, Cheyenne, Wyo., 2:44:37
Brian Sinta, 45, Glen Ellyn, Ill., 2:45:22
Erik Svendsen, 33, Unit B, Calif., 2:50:09
Doug Lambert, 50, Castle Rock, Colo., 2:56:55
Mark Willis, 38, Highlands Ranch, Colo., 2:58:28
10- to 15-year-olds
(name, age, town, time)
Connor Lewis, 15, Denver, Colo., 2:44:47
16- to 17-year-olds
(name, age, town, time)
Steven Kyker, 16, Denver, Colo., 2:17:57
Zachariah Bolster, 17, Cedar City, Utah, 2:18:05
Chris Fons, 17, Centennial, Colo., 2:21:36
Derek Lewis, 17, Denver, Colo., 2:34:03
18- to 19-year-olds
(name, age, town, time)
Grant Crist, 19, Downers Grove, Ill., 2:17:49
Logan Brock, 18, Littleton, Colo., 2:27:58
Thomas Bilodeau, 19, Cheyenne, Wyo., 2:39:36
Clayton Shaver, 18, Westminster, Colo., 2:43:00
20- to 24-year-olds
(name, age, town, time)
Nick Baldwin, 24, Winchester Hampshire, 1:59:12
Drew Auer, 22, Boulder, Colo., 2:01:37
Stuart Vettese, 23, Boulder, Colo., 2:06:57
Will Hunt, 23, Laramie, Wyo., 2:18:35
Greg Sustad, 24, Centennial, Colo., 2:21:07
Mark Waltman, 21, Lakewood, Colo., 2:22:14
Karel Williams, 23, Colorado Springs, Colo., 3:10:58
Daniel Kahn, 24, Denver, Colo., 3:21:53
25- to 29-year-olds
(name, age, town, time)
Robert Helvestine, 25, Boulder, Colo., 2:03:04
Adam Bordeman, 28, Boulder, Colo., 2:07:38
Craig Schmidt, 29, Denver, Colo., 2:10:11
Eddie Rogers, 28, Steamboat, Colo., 2:10:37
Craig Depperschmidt, 28, Fort Collins, Colo., 2:10:57
James Hall, 29, Denver, Colo., 2:11:49
Justin Freyermuth, 28, Fort Collins, Colo., 2:12:27
Danny Rising, 29, Denver, Colo., 2:14:28
Kyle Bevers, 26, Fort Collins, Colo., 2:19:09
Kyle Ewing, 28, Denver, Colo., 2:19:42
Louis Cicchino, 27, Edgewater, Colo., 2:21:41
Nathaniel Hoopes, 29, Denver, Colo., 2:26:32
Gregg Campbell, 25, Fort Collins, Colo., 2:28:16
David Smith, 25, Westminster, Colo., 2:35:37
Andrew Zemke, 29, Longmont, Colo., 2:37:52
John Whitney, 25, Boulder, Colo., 2:39:38
Kyle Lyon, 29, Colorado Springs, Colo., 2:46:13
Jeremy Hurshman, 27, Fort Collins, Colo., 2:50:45
Donald Zuehlke, 28, Lakewood, Colo., 2:57:06
Kyle Rose, 28, Peyton, Colo., 3:11:19
Matt Veghte, 27, Fort Collins, Colo., 3:26:32
Adam Patterson, 25, Steamboat Springs, Colo., 3:28:20
Drew Veldhuizen, 26, Steamboat Springs, Colo., 3:34:19
30- to 34-year-olds
(name, age, town, time)
Andrew Knutsen, 31, Lakewood, Colo., 1:59:30
Spencer Dries, 31, Fort Collins, Colo., 2:09:28
Dennis Hardie, 32, Denver, Colo., 2:19:18
Matt Stensland, 30, Steamboat Springs, Colo., 2:23:40
Andrew Kittelson, 32, Denver, Colo., 2:24:31
Barry Lyon, 33, Fort Collins, Colo., 2:25:26
Thom Page, 30, Denver, Colo., 2:25:37
Christopher Tamucci, 34, Steamboat Springs, Colo., 2:28:37
Aaron Amoroso, 30, Littleton, Colo., 2:29:05
Dennis Robinson, 31, Denver, Colo., 2:29:40
Brandon Patton, 34, Denver, Colo., 2:31:09
Bradley Martin, 32, Boulder, Colo., 2:33:01
Scott Hinck, 31, Boulder, Colo., 2:33:10
Russ Rizzo, 32, Denver, Colo., 2:33:59
Matthew Drexel, 30, Denver, Colo., 2:35:43
C.J. Foster, 33, Denver, Colo., 2:38:41
Nama Illo, 32, Boulder, Colo., 2:41:34
Justin Dukes, 31, Denver, Colo., 2:41:44
Justin Bodien, 31, Denver, Colo., 2:41:52
Geoffrey Uhl, 33, Littleton, Colo., 2:43:10
Nathan Erickson, 33, Boulder, Colo., 2:44:54
Matthew Hall, 34, Steamboat Springs, Colo., 2:56:28
Ben Cort, 33, Longmont, Colo., 3:10:50
Ian Gale, 32, Steamboat, Colo., DNF
Dan Niles, 31, Boulder, Colo., DNF
35- to 39-year-olds
(name, age, town, time)
Enrico Cacciorni, 39, Evergreen, Colo., 2:07:40
Mike Ridgeman, 37, Golden, Colo., 2:12:42
Russell Herbert, 38, Boulder, Colo., 2:16:57
John Elam, 39, Golden, Colo., 2:20:52
Paul Agenten, 35, Bozeman, Mont., 2:21:22
Michael Rider, 36, Lakewood, Colo., 2:21:50
Zander Renault, 39, Westminster, Colo., 2:25:00
Joshua Claflin, 37, Broomfield, Colo., 2:26:00
Keith Kelley, 35, Wellington, Colo., 2:28:46
Greg Barecki, 39, Lakewood, Colo., 2:30:30
Ryan Pollock, 39, Denver, Colo., 2:31:16
John Fougere, 35, Denver, Colo., 2:37:31
Shawn Rodine, 36, Boulder, Colo., 2:47:06
40- to 44-year-olds
(name, age, town, time)
Steve Cox, 44, Aurora, Colo., 2:06:34
Robin Haywood, 44, Graceville, Ql, 2:09:17
Bob Seebohar, 41, Littleton, Colo., 2:11:41
Stefan Evanoff, 44, Lakewood, Colo., 2:14:47
Chris Csordas, 40, Boulder, Colo., 2:19:25
Dan Fetsco, 40, Cheyenne, Wyo., 2:22:13
Jayson Graves, 41, Colorado Springs, Colo., 2:24:00
Stewart Nixon, 43, Snowmass Village, Colo., 2:25:31
Bob Possehl, 44, Englewood, Colo., 2:26:44
David Heller, 44, Denver, Colo., 2:32:06
Beau Carter, 42, Denver, Colo., 2:37:57
Jim Kozlowski, 44, Denver, Colo., 2:40:57
Mark Perry, 40, Thornton, Colo., 2:43:24
Matt Ake, 44, Broomfield, Colo., 2:44:58
Mike Westbrook, 40, Loveland, Colo., 2:49:59
Jerry Bailey, 43, Aurora, Colo., 2:53:50
Brian Albers, 43, Longmont, Colo., 2:54:21
Jason Mackintosh, 42, Englewood, Colo., 2:59:18
Jason Yanowitz, 43, Steamboat Springs, Colo., 3:03:34
Gregory Cosgrove, 43, Centennial, Colo., 3:08:56
Acey Redleaf, 40, Colorado Springs, Colo., 3:10:54
Scott Holzer, 42, Denver, Colo., 3:31:32
Ben Clark, 43, Steamboat Springs, Colo., DNF
45- to 49-year-olds
(name, age, town, time)
Daniel Fernandez, 45, Boulder, Colo., 2:05:11
Robert Gilbert, 47, Littleton, Colo., 2:16:54
Robert Bolen, 47, Winter Park, Colo., 2:29:13
Chuck Ray, 49, Golden, Colo., 2:34:08
Doug Smith, 46, Denver, Colo., 2:37:39
Jon Bourne, 48, Denver, Colo., 2:48:22
Steve Ganch, 46, Evergreen, Colo., 2:49:06
Jeffrey Lukens, 46, Steamboat Springs, Colo., 2:49:37
Jeff Spray, 46, Erie, Colo., 2:55:34
Frank Kelly, 46, Glen Ellyn, Ill., 2:55:37
Doug Folk, 47, Carbondale, Colo., 2:58:50
Stephen Eaton, 45, Colorado Springs, Colo., 3:05:02
Mark Jennison, 49, Denver, Colo., 3:18:51
50- to 54-year-olds
(name, age, town, time)
Scott Powell, 50, Chappaqua, N.Y., 2:11:04
Paul Baker, 51, Steamboat Springs, Colo., 2:11:15
Burke Fishburn, 50, Boulder, Colo., 2:14:11
Dan Nielsen, 51, Avon, Colo., 2:15:47
Richard Odell, 51, Denver, Colo., 2:23:05
Michael Walker, 53, Cheyenne, Wyo., 2:24:05
Mike Stepanek, 50, Eagle, Colo., 2:26:50
Randy Fons, 50, Centennial, Colo., 2:38:11
Todd Filsinger, 50, Denver, Colo., 2:46:29
Francis Abate, 54, Steamboat Springs, Colo., 3:00:01
Sean Curtis, 50, Chappaqua, N.Y., 3:01:47
Shannon Lunsford, 52, Lafayette, Colo., 3:16:22
Michael Tucci, 51, Craig, Colo., 3:17:05
Tim Ottmann, 52, Parker, Colo., 3:41:18
55- to 59-year-olds
(name, age, town, time)
Cisco Quintero, 57, Erie, Colo., 2:24:35
Jeff Day, 55, Highlands Ranch, Colo., 2:33:53
David Ward, 55, Loveland, Colo., 2:37:21
Warren Roach, 56, Colorado Springs, Colo., 2:39:02
Jeff Bucy, 58, Loveland, Colo., 2:43:22
Danny Peleg, 55, Boulder, Colo., 2:46:58
Warren Knop, 56, Monument, Colo., 2:51:57
60- to 64-year-olds
(name, age, town, time)
Tom Ela, 60, Grand Junction, Colo., 2:43:45
Wolfgang Dworzak, 63, Los Alamos, N.M., 2:50:43
Frank Ryan, 64, Highlands Ranch, Colo., 2:52:35
Michael Stoltz, 62, San Antonio, Texas, 2:59:52
Jim Fuller, 60, Greeley, Colo., DNF
65- to 69-year-olds
(name, age, town, time)
Ernest Moore, 66, Denver, Colo., 2:48:56
John Holland, 66, Steamboat Springs, Colo., 2:50:07
William Austin, 65, Evergreen, Colo., 2:50:29
To reach Joel Reichenberger, call 970-871-4253 or email jreichenberger@SteamboatToday.com