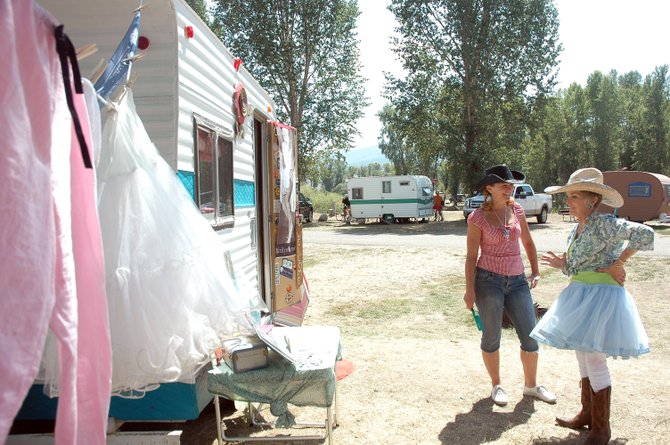 Fly-fishing club brings vintage trailers to Steamboat Campground
Saturday, August 18, 2012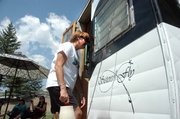 Steamboat Springs — There are rules in Sisters on the Fly: No husbands, no kids, no dogs and be nice.
"We're tomboys, do-it-yourself women," said Lisa McIntyre, a "sister" from Denver standing Saturday outside her small vintage trailer named "Gypsy Daisy" at Steamboat Campground. "You learn so much from who they are and how they live."
This week, 110 of the more than 3,000 members of the women's fly-fishing and adventure club rolled into Steamboat Springs.
From Tuesday to Sunday, the sisters camped at Steamboat Campground in their vintage trailers — a tradition that has become as much a part of Sisters on the Fly as fishing — and enjoyed everything the Yampa Valley has to offer.
This particular event was put on by Lane O'Neal, an Evergreen resident with a house in Steamboat Springs. She said she knew the Yampa Valley would be perfect for the sisters' diverse interests, and she was right: The women did it all this week.
"Who couldn't have a blast in Steamboat?" said O'Neal, a member of Sisters on the Fly since 2009.
From the rodeo to hikes to the hot springs, some didn't even have time to fish, though reports were that one woman caught five fish in one outing. Local businesses like Calamity Pass Trading Co. offered shopping parties for the women with wine and cheese. They participated in fly-fishing clinics and tried out the Alpine slide.
O'Neal said that the meet-up is for the Rocky Mountain region of the club and that she plans to hold it in Steamboat again in 2014.
"It's awesome, the camaraderie," O'Neal said. "We've gotten lots of women who have never fished out on the water."
On Saturday, the women opened up their mini-homes to the public, offering a tour of more than 70 vintage trailers to raise money for Casting for Recovery, a nonprofit that helps women recovering from cancer learn to fish.
"I love the challenge, the tug of the fish when you get one," McIntyre said about why she enjoys fishing. "You're at one with nature."
But not all of the sisters fish. Amy Trombly, of Lafayette, said she spent Memorial Day weekend with several sisters hiking 30 miles on the Appalachian Trail. She said she had never planned to buy one of the dollhouse-like trailers, but she ended up purchasing one Friday.
"The idea was to go to one Sisters event a year," Trombly said, sitting outside her friend's trailer called the Beer:30 Bunkhouse. "But this is my fourth one."
To reach Nicole Inglis, call 970-871-4204 or email ninglis@ExploreSteamboat.com