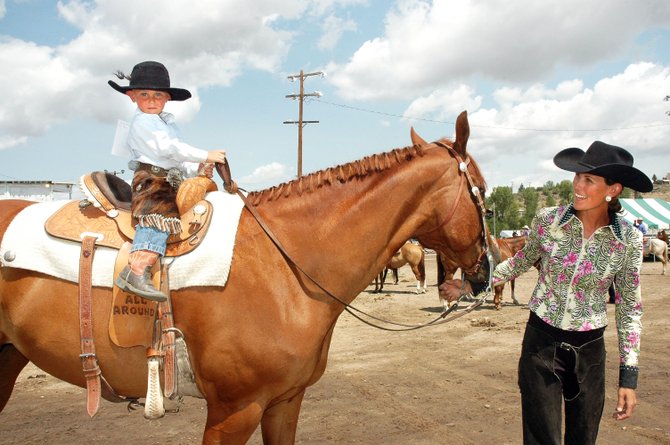 Months of work pay off for Clark family at Routt County Fair
Saturday, August 11, 2012
Photo Gallery
Routt County Fair: Aug. 11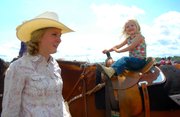 If you go
Find the complete Routt County Fair schedule here.
Steamboat Springs — Saturday was Quin Yeager's first horse show, but you'd never know it. The magenta of her Western-style, button-down shirt reflected onto her determined face as her older sister, Teagann, 15, offered her words of encouragement before she headed into the outdoor ring at the Routt County Fairgrounds.
"She's pretty fearless for a 5-year-old," Teagann said.
Sitting tall on her horse Winnie, Quin came in first place in her small class in the open horse show. Everyone in the 7-and-younger walk-trot event came in first place.
Quin didn't have words to describe her first horse show experience besides "fun," but she said she loves to ride horses "because it's fun to sit on them."
It all began for the Yeager girls in April. As soon as school let out, four of the Clark family's six daughters began spending hours at their aunt's farm each day training, washing and feeding their two pigs as well as working on their horsemanship.
"My pig needs its own stall because it's so mean," said Quin.
The girls, including Teagann, Cassett, 13, Quin and Oaklee, 2, have spent months preparing for this year's Routt County Fair, and it's all paying off as the fair kicks off with the horse events. The livestock aspect of the Routt County Fair begins Wednesday, when the girls will weigh in their two pigs and sell them later in the week at the Junior Livestock Sale.
Saturday's event featured about 50 participants ranging in age from 3 to more than 50.
For the younger riders, it was walk-trot. For the seasoned cowboys and cowgirls, the Western performance event tested their horsemanship.
"It feels good to be riding with everybody," Teagann said. "It's great; it's what you've been working for all summer."
The girls' mother, Heather, said she was proud of her daughters and proud that Quin now is so confident on Winnie that it doesn't make her nervous anymore.
"It teaches them how to work with animals and how to react to those feelings and movement," she said about her daughters' riding. "It teaches them patience and perseverance."
Quin wasn't the youngest competitor Saturday. Three-year-old Kacey Wernsman has showed horses before and earned a first-place ribbon as his mother, Julie Wernsman, led him around the ring in the 5-and-younger lead line event.
He certainly looked the part with his animal fur chaps and a black cowboy hat bending his ears.
Wernsman said that her husband will be competing in the bronc riding next week and that she'll be barrel racing. And little Kacey dreams of riding broncs one day, too.
But he has to start somewhere.
"I just love the atmosphere" at the fair, she said. "Everyone's just out here to have fun."
To reach Nicole Inglis, call 970-871-4204 or email ninglis@ExploreSteamboat.com