3 Steamboat boys escape Dream Island trailer fire
Dream Island fire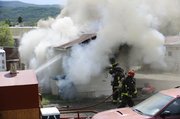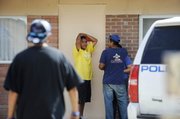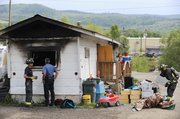 Steamboat Springs — It is unclear how a fire started in a trailer Friday afternoon at Dream Island Mobile Home Park.
Jose Jimenez, 16, said he and his younger brothers were home alone and playing video games when they noticed smoke. Jimenez said he went to the bedroom and found the bed on fire.
"I tried to put it out," he said.
While doing that, he broke a window and cut his hand and arms.
Jimenez said he told his 3- and 11-year-old brothers to get out and call for help. The dog also got out safely.
Steamboat Springs Fire Rescue firefighters were paged to the fire at trailer 5B at about 3 p.m. Fire Chief Mel Stewart said everyone was out of the trailer when firefighters arrived.
Firefighters quickly put out the fire, and Jimenez was treated at the scene for cuts and possible smoke inhalation.
Stewart said fire prevention officers were going to investigate the fire.
"Everything but the bedroom is pretty much salvageable," Stewart said.
Volunteers with the American Red Cross are helping the family through the tragedy by offering food, clothing and shelter.
Volunteer Sarah Cherry said the Rabbit Ears Motel has offered them a room, and anyone who wants to help can contact LIFT-UP of Routt County. She said LIFT-UP can pass along things to the family such as gift cards and money, which are the most helpful.
The children also are in need of school supplies, Cherry said, and the family might need furniture in the future. People with questions about how to help the family can email jody.acres@redcross.org.
To reach Matt Stensland, call 970-871-4247 or email mstensland@SteamboatToday.com