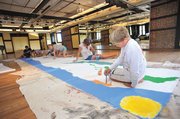 Steamboat Springs — The Steamboat Springs Arts Council is close to securing another decade as tenants of the city-owned Depot Art Center.
On Tuesday night, Steamboat Springs City Council approved the first reading of a new lease that will allow the nonprofit to stay in the century-old building and continue to pay $1 a year in rent to operate there.
The Arts Council's future in the Depot was in question in January 2011 after the group's previous lease with the city expired and city staff considered soliciting bids for an operator of the building.
But with several opponents of that proposal in the audience at a January meeting, City Council passed on that idea and voted unanimously to start negotiating a new lease with the Arts Council.
The approved lease was the result of months of negotiations between the Arts Council and city officials, and it comes with a few changes from the previous lease agreement.
Under the new document, the Arts Council will pay for all of the building's utility costs and general maintenance, items the city has partly funded for the past several years.
Steamboat Director of General Services Anne Small, who led the negotiations for the city, said both sides are "very satisfied" with the new agreement.
"I think we worked really hard to get to this point, and I think there is always give and take on both sides," she said. "We did a lot of giving and taking until we reached the middle point where we could both say, 'We're good.'"
Arts Council board member Scott Wither agreed.
"I was impressed with the negotiations," he said. "We're excited to be able to stay in the Depot for another 10 years. We think it's a fair lease."
The Arts Council started operating from the Depot in 1972, when Steamboat resident Eleanor Bliss led an effort to raise more than $400,000 to save the building. In 1983, Bliss wrote that when the Arts Council first leased the building from the city, its "roof leaked, the floors were buckled, the bricks unstable, the walls crumbling, the heating and plumbing systems were shot, the electric wiring was outmoded, the floor in the warehouse section was a buckled mess of asphalt over steel mesh," among other things.
Wither said the city and the Arts Council know today that the building's plumbing system needs major work.
The new lease states that "the city further recognizes that unforeseen repairs may be required on an emergency basis and will collaborate with the Arts Council on repairs and cost sharing for single incidents with costs greater than $20,000."
Small added that the lease with the Arts Council is similar to the city's other leases with nonprofit groups that include the Yampa Valley Land Trust, the Steamboat Art Museum and Yampatika. She said all of those groups are tenants of city buildings and pay $1 a year in rent.
To reach Scott Franz, call 970-871-4210 or email scottfranz@SteamboatToday.com