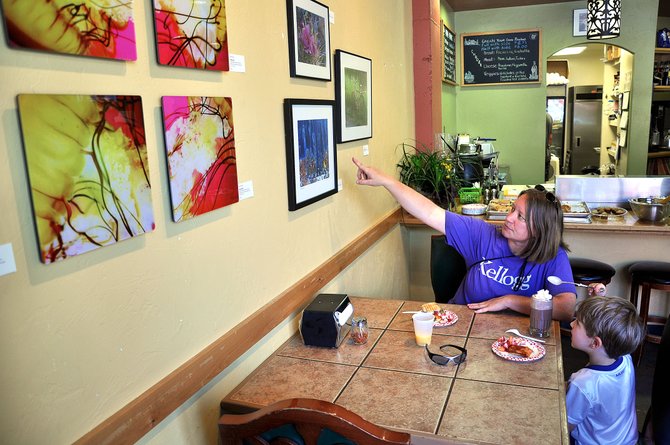 Steamboat Photography Group celebrates new show at Ciao Gelato
Steamboat Springs — The Steamboat Photography Group never hangs its pictures in Ciao Gelato without hosting some sort of celebration shortly afterward.
In 2010, the group launched its new show in the eatery with live music and appetizers.
On Sunday, surrounded by an eclectic range of prints, the photographers celebrated the start of their monthlong show with a pizza party.
"Some of this work is incredibly impressive," Ciao Gelato patron Winnie DelliQuadri said Sunday as she and her 4-year-old son, Cash, admired the new photographs unveiled on the walls of the Italian eatery. "You get to see stuff that's very professional, but you also get to see pictures taken by amateurs."
Ciao Gelato switches up the artwork about every month. DelliQuadri said the pictures makes the eatery much more interesting.
"I look at some of the pictures and say to myself, 'I wish I could go there,'" she said as she recalled a recent series of pictures that featured cobblestone streets.
The Steamboat Photography Group formed in 2010 as a small group of amateurs who didn't want their photography classes to end. Although their work spans many techniques and genres, the photographers all can say they've taken a class under Steamboat resident Karen Schulman.
Club member Lynne Garell said Sunday that the group meets monthly and that each month, the members tackle a different photography assignment. She said since the club's inception a few years ago, the photographers' work continues to adapt, and their pictures get sharper and more creative.
"We're always trying to push each other to get stronger," Garell said.
She said some of the photographers have their work hanging in Steamboat's Depot Art Center and others at Sweetwater Grill.
Ciao Gelato's Lynne Romeo said she enjoys seeing the pictures the group unveils each summer at her restaurant on Yampa Street.
"They're amateurs, but they're awesome," she said.
To reach Scott Franz, call 970-871-4210 or email scottfranz@SteamboatToday.com