Steamboat Springs — Editor's note: This story has been updated to reflect current fire restrictions.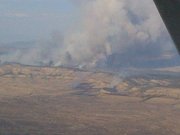 Stage 1 fire restrictions
Stage 1 restrictions prohibit:
■ Building a fire except at designated recreation sites using provided fire grates.
■ Smoking except within an enclosed vehicle or building, a developed recreation site or while stopped in an area at least three feet in diameter that is barren or cleared of all flammable material.
■ Fireworks of any type, including sparklers.
■ Explosives, welding and torches. Engines are required to have a spark-arresting device correctly installed.
Violation of fire restrictions is punishable by a fine as much as $1,000 and imprisonment for as long as 12 months.
Document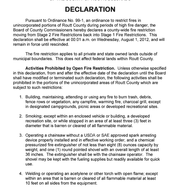 Calmer winds Saturday in Northwest Colorado have allowed the haze over Routt County to clear, but two wildfires in nearby Moffat County continue to grow.
The Wolf Fire, about five miles south of Elk Springs off U.S. Highway 40 in western Moffat County, had grown to an estimated 4,200 acres by Saturday evening, according to a news release from the Northwest Colorado Fire Management Unit. By Saturday evening, crews had reached 10 percent containment. Officials estimated the fire would be fully contained by Friday.
About 130 people are working the fire, including two air tankers dropping retardant and a helicopter dropping water, according to the release.
The fire started Friday on Bureau of Land Management land and since has moved onto private land. It is burning in sagebrush and pinion and juniper trees, and rough terrain has made the burn area difficult to navigate for firefighters, according to the release.
A smaller fire in Moffat County, the Divide Fire, grew to an estimated 250 acres by Saturday morning, according to the release. The Divide Fire is about five miles south of the Wolf Fire on BLM land.
As of Saturday evening, the Divide Fire was 50 percent contained, and officials expected full containment by Monday, according to the release.
Lightning has been determined as the cause of both fires. No injuries have been reported, and no structures are threatened by either wildfire, according to the release.
Fire restrictions
In unincorporated Routt County, where a couple of smaller wildfires were extinguished Friday, fire restrictions were eased July 27 to Stage 1, which primarily allows campfires in designated rings at developed campgrounds or picnic areas as well as the use of charcoal grills, both of which are illegal under Stage 2 restrictions.
Fire restrictions on Routt National Forest land recently have been downgraded to Stage 1, as well, following the advice of regional fire officials at a July 24 meeting. All restrictions have been removed in Oak Creek and Hayden. BLM land in Northwest Colorado remains at Stage 2 restrictions.
The Steamboat Springs City Council will discuss moving from Stage 2 to Stage 1 fire restrictions at its Tuesday meeting.
Weather forecast
The high in Steamboat Springs through Wednesday is expected to be in the mid- to upper 80s, according to the National Weather Service. Moisture is expected to return to the area Monday night.
To reach Nicole Miller, call 970-871-4246 or email nmiller@SteamboatToday.com