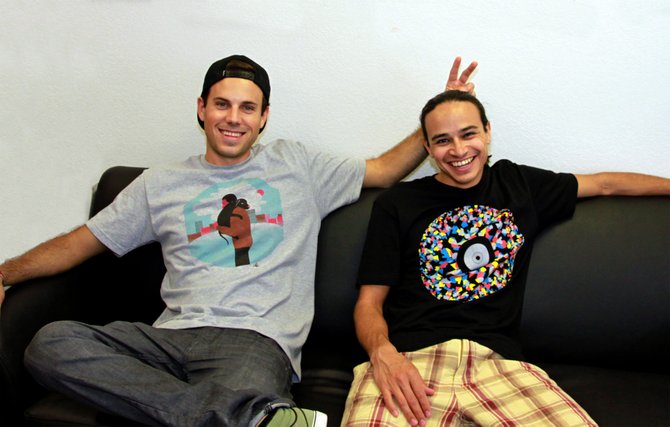 Steamboat Springs grad's business benefits global charities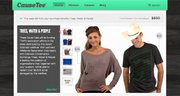 Steamboat Springs — From high school best friends to business partners, Tyler Strauss and Brian Berge haven't missed a beat.
Now the founders of the philanthropy-minded website CauseTee, the 2001 Steamboat Springs High School graduates are making the most of a world they've created for themselves.
"We both went to (college) and graduated but didn't really have job prospects that we were really excited about," Berge said. "We got together and put our different skills to use and gave ourselves jobs."
CauseTee.org launched April 30, and it functions on a simple concept: For two weeks, the site displays four T-shirts — two designs for women and two for men — created with a specific nonprofit in mind. From every T-shirt sale, $8 goes toward the cause.
For Strauss and Berge, it means collaborating with different artists and nonprofits for each campaign. But there's a payoff in the end.
"It's cool to not just worry about making money," Strauss said. "It's cool to have a different driving force and work with the charities. We've learned a lot. We typically wouldn't sit there for hours and research cystic fibrosis, and we do now."
A Steamboat start
Berge's mother, Evlyn, said her son did it all when he was a child in Steamboat: He played tennis and hockey and competed in snowboarding for the Steamboat Springs Winter Sports Club. She credits the Steamboat lifestyle for the gratefulness that drives him to reach out to charities across the world.
"When he came back (from college in Utah), he said, 'Wow Mom, we are really lucky to live here; we get to do everything,'" she said.
Brian Berge said the shoe company TOMS also influenced him to launch a philanthropy-based apparel site, but it was his parents' entrepreneurial spirit that inspired him.
His parents ran their own businesses but still hosted exchange students and volunteered their time in the Rotary Club.
"I got to see how much free time they could have and go camping and skiing, and they could take me to hockey games," he said. But just this week, he fielded a phone call at midnight asking about the website. He was ready for it after growing up in the Berge household. "I got to see the good parts and bad parts of owning your own business."
Evlyn Berge has a CauseTee that she bought to benefit Pets of the Homeless that provides veterinary services for pets of homeless people. She bought shirts for the staff of her vet's office in Steamboat, as well.
"I'm very proud of them," she said about the two 29-year-old entrepreneurs. "It's seems like it's an effective concept. It seems like, as it's just starting, that it's very ambitious.
"They're doing it, so obviously it's an idea that works."
Brian Berge said he hopes that the T-shirts do more than raise money for causes. He hopes they start a conversation.
"Life is busy, and you don't have a lot of money," he said. "We wanted to find a way to open the door for people to get involved with causes they really care about it."
Social successes
CauseTee doesn't have a big budget for advertising. They're relying on social media, the new standard for word-of-mouth promotion.
"It makes the world a lot smaller," Strauss said. "We're able to reach a lot of people without spending the money that older corporations need to do it. That savings, people say, 'Well, what are we going to do with these increased profit margins?' We're not buying big magazine ad campaigns, so we can pass those saving along.
"We build more of a community-type of businesses."
CauseTees are printed on T-shirts made in America and overseas. The pair print the shirts themselves in their office in Phoenix, where they were donated an office space to use. They hope to move the business to Denver in the near future.
They have no employees but are looking for interns to help keep the campaigns growing.
The site has raised thousands of dollars for charities ranging from Cell Phones for Soldiers to Pencils of Promise.
Their most successful campaign was for the S.O.U.L. Foundation, which raised $1,300 for the "Get a Goat, Give a Goat" program to promote sustainable living in Uganda.
The campaign was deeply rooted in Strauss and Berge's Steamboat network: The art was designed by 2004 Steamboat graduate Melissa Rogers.
Rogers, who is working as a professional artist and graphic designer in Fort Collins, said she was asked to work on the project by Steamboat graduates Jamie Curcio and Stephanie Sanders, who work with S.O.U.L.
"Steamboat really does truly produce people who go out into the world and try to make a difference," Rogers said. "It was just fun to be doing something that people are going to be wearing like a T-shirt design, and it honestly felt really good to have my art be giving life to other people."
To reach Nicole Inglis, call 970-871-4204 or email ninglis@ExploreSteamboat.com