Steamboat briefs: Wild West Relay rolls into Steamboat on Saturday
The ninth annual Wild West Relay rolls into Steamboat on Saturday.
The relay begins Friday morning at the Budweiser Tour Center and takes runners 200 miles from Fort Collins into Wyoming, back down to Colorado and eventually into Steamboat, where they'll finish at Strawberry Park Elementary School.
"It was so well received the first couple of years, I knew that it would do well," race director Paul Vanderheiden said. "I work my butt off to sustain the quality of the race."
Runners should start arriving at about 10 a.m. Saturday with the last runners getting in at about 5 p.m.
The event features teams of four to 12 runners trading off legs. This year, there are 110 teams with 1,200 registered racers from more than 30 states.
There is one team from Steamboat registered in the race. Captained by Erik Ramstad, the Handsome Men of the NCAC will compete.
Phil Purdy again will attempt to do the race solo. Purdy was the third person to finish the race solo last year and will attempt to be the first person to finish it twice.
Last year, he raised more than $3,000 for the Larimer County Food Bank. This year, he already has raised more than $9,000.
The nonprofit arm of the race, Volunteers with a Purpose, has raised more than $20,000 for participating nonprofits.
Butcherknife Trail to close because of utility line work
The city of Steamboat Springs and Yampa Valley Electric Association will be implementing rolling trail closures on Butcherknife Trail beginning Friday, according to a news release. The closures are expected to last about two weeks during utility line work. For more information, call YVEA at 970-879-1160 or the Parks, Open Space and Recreational Services Department at 970-879-4300.
David Gerhart announces his retirement from TIC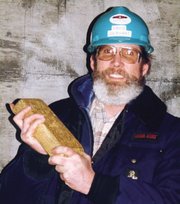 David Gerhart announced in a news release his retirement after a 35-year career with TIC. Gerhart started his career with TIC at the Rio Blanco Oil Shale Project near Meeker in February 1978. He moved to Steamboat Springs shortly thereafter. His 35 years with the company took him to major construction projects throughout the U.S., Alaska, Canada and even a few locations in Mexico and the Caribbean. Gerhart raised two sons in Steamboat: Nathan, 29, and Eli, 24. Both now are living on the Front Range. The family also was active with the Steamboat Springs Winter Sports Club.
Gerhart and his wife, Lura Ann, will be relocating to Paonia in early September after spending the remainder of the summer in Steamboat. 
"I have greatly appreciated the opportunities that TIC provided me," Gerhart said. "The most enjoyable, of course, was the opportunity to call Steamboat home for so many years." 
The couple said they will miss their Steamboat friends but are looking forward to longer summers and a lot less snow.
SoulSpark Journeys yoga retreat set for Oct. 20, 21
The third annual SoulSpark Journeys fall yoga retreat is planned for Oct. 20 and 21 at Perry-Mansfield Performing Arts School and Camp. Sign up for the entire weekend ($175 before Oct. 1) or just for the day ($100 per day). Begin each day with an all-levels yoga class and meditation followed by a homemade breakfast. Optional morning and afternoon workshops include ayurvedic vinyasa flow, arm balances, Thai partner yoga massage, bhakti flow, yin yoga, restorative yoga, kundalini yoga and more. For more information, visit www.soulsparkjourneys.com, follow SoulSpark Journeys on Facebook or call Alex Pallut at 510-882-7126.
Prudential Steamboat hosts open house tour Saturday
Prudential Steamboat Realty is hosting an open house tour from 11 a.m. to 2 p.m. Saturday. The free, self-guided tour includes 14 properties ranging from in the $300,000s to $6 million. Call 970-879-8100 with questions.
Local attorney Lindsey Bates undergoes surgery
Lindsey Bates, a local attorney, underwent microvascular decompression neurosurgery Wednesday at Littleton Adventist Hospital.